USB cables? What a pain. You can never find the right type of connector when you need one, or you can't figure out which way is up when you plug the cable in. These problems could be a thing of the past, though, with the latest version of the venerable USB connection: USB Type C. This new standard uses a single style of plug for both ends, so you can use cables either way around. The plugs also work both ways up, so you can plug it in with your eyes closed. Let's take a look at what the USB type C connector means.
First released in 2014, the new USB type C connector is part of the USB 3.1 standard. This new standard is an update to the USB 3.0 standard used by most contemporary devices, and it adds a new type of connector: the USB type C.
This new connector is smaller, thinner and more flexible than older versions, but still supports the same data and power connections, as well as adding a couple more ways for devices to talk to each other. It does this mainly by increasing the number of connections between plug and socket to 24, up from the ten of USB 3 and four or five of USB 2.0. These extra connections mean that the devices on either end have more ways to send both energy and data down the cable between them.
This single connector also means that cables can be used either way around, and either way up. No more piles of USB cables with different ends or fumbling behind a PC to figure out which way up the USB plug should go: it will, to use a truism, just work, whichever way round it is and however the plugs are oriented.
It does this because the connector is really two in one, with twelve connections on either side of a central board inside the plug. So, whichever way it goes in, the connections will be made appropriately, because they are present on both sides.
Power
Four of these connections are designated as VBUS connections, carrying the power for charging and operating connected devices. In addition, two pins are used for grounding, and one pin is used for signalling between the two devices to determine how much power should be sent. Running at the USB standard 5 V, the VBUS cables can supply up to three amps, a big increase on the two amps available in USB 3 cables, and much more than USB 2.
Some devices get around this by using the USB Power Device standard, which allows them to deliver higher voltages and more current. Most laptops and other portable devices don't support this, though, limiting the charging current they offer. Upping the power limit that a USB type C device can offer means that it will be quicker, for instance, to charge your phone from your laptop, a huge blessing for the travelling geek, as it means fewer chargers and cables to lug around.
Data
The rest of the pins are used for sending data. USB 3.1 is designed to be electrically backwards compatible with older USB standards, so you can connect a device with a USB type C port to an older device that supports only USB 2 or USB 3 with an appropriate cable.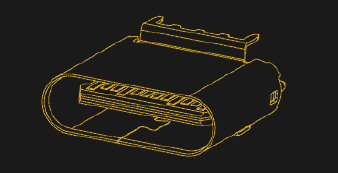 To achieve this, the connections in the type C cable include all of those used in USB 2 and 3. For the USB 2 standard, this includes a single connection over a pair of wires, while USB 3.0 uses up to three connections over six wires. Each of these connections is carried using differential signalling, providing a total bandwidth of 480 Mbit/s (USB 2) or 5 Gbit/s (USB 3.0).
The USB 3.1 type C connection doesn't add any extra speed, but it does add a couple more connections to this. A configuration channel (CC) connection allows two devices to exchange information on what features they do (and don't) support, and a sideband use connection (SBU) allows devices to exchange information without interrupting the flow of data over the main connection. The SBU connection is not used yet in the USB 3.1 standard. Instead, it is reserved for future expansion (presumably USB 4), and is used in some of the alternate modes that USB 3.1 type C connections support.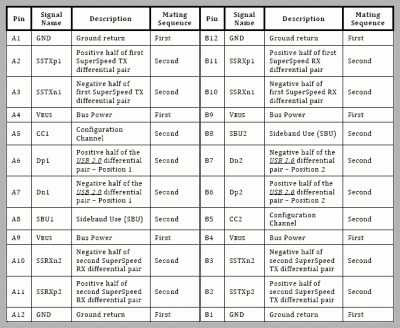 The creators of USB 3.1 wanted to build an all-encompassing standard that also allowed other methods of data transmission to be used. In particular, they wanted to include Thunderbolt 3 and DisplayPort connections to be used from a USB type C port. They did this by creating alternate modes, where the connection can effectively be rewired by a controller that supports these modes to become a Thunderbolt 3 or DisplayPort connection rather than a USB 3.1 one. Thunderbolt 3 is a new standard that uses very high-speed serial data to connect devices like hard drives and graphics cards while DisplayPort is used mainly to output video to monitors.
This might seem like an odd idea at first, but it makes sense in the long term. By adding these alternate modes, a computer can use a single port to connect USB 3.1, Thunderbolt 3 or DisplayPort devices, which reduces the number of ports needed. For a device like a thin laptop where port space is at a premium, this means a single port can do the job of three. For the user, it means that they don't need to have as many cables, and can use USB 3.1, Thunderbolt 3 and DisplayPort devices on the same port.
Physical Connection
The USB type C connection isn't physically backwards compatible, though: you can't use a cable with USB type C connectors on both ends with an older USB 2 or 3.0 port. This is causing some frustration with users: When I recently bought a Nexus 5X cell phone that has a USB type C cable, I was frustrated to discover that it only comes with a type C cable. To connect it to my laptop or desktop PC (both of which have USB 3 ports), I needed to buy an extra adapter or another cable that had a type C connection on one end, and a USB 3 type A connection on the other.
This is a case of pain now but gain later, though. By changing the physical port and plug to offer more flexibility and to support other data modes, USB type C could render the huge box of USB, Firewire, HDMI, DisplayPort and other cables I have in my basement irrelevant: with just a single cable, I should be able to connect anything to anything. That's the theory, at least: it remains to be seen how this dream transforms into reality.
Direct Audio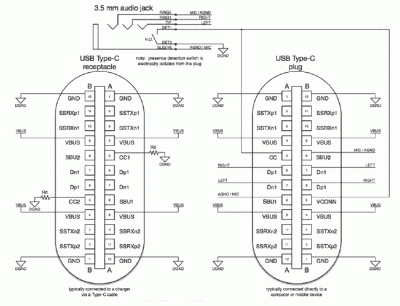 Another interesting hint of the future is the Audio Adapter mode that the standard includes.
Here, an analog audio output (such as headphones) and input (such as a microphone) can be connected directly to the USB type C socket, removing the need for external amplifiers, DACs and ADCs. In other words: you can add a headset socket with a simple adapter that needs no more than a handful of resistors. The resistors identify the connected device as a headset, and the USB host device then feeds analog audio to it and receives analog audio.
Could this mean a smartphone without a headphone socket? In theory, as the standard documents note:
"An analog audio adapter could be a very basic USB Type-C adapter that only has a 3.5 mm jack or it could be an analog audio adapter with a 3.5 mm jack and a USB Type-C receptacle to enable charge-through. The headset shall not use a USB Type-C plug to replace the 3.5 mm plug."
Roughly translated, this means that a USB type C-only equipped smartphone is allowed, but headsets won't come with only a USB type C plug on them: you will need an adapter.