I recently had the chance to visit Belgrade and take part in the Hackaday | Belgrade conference. Whenever I travel, I like to make some extra field trips to explore the area. This Serbian trip included a tour of electronics manufacturing, some excellent museums, and a startup that is weaving FPGAs into servers and PCIe cards.
MikroElektronika
After the second world war Serbia was part of Yugoslavia and the region was a manufacturing hub for the entire Soviet bloc. In particular, a lot of electronic components (resistors, capacitors, etc.) were manufactured here. Those types of components may no longer be made here, but there is still a strong electronics manufacturing hub and a good example is MikroElektronika, a company built in the footprints of some of the old factories. The building and business are anything but old, and they have been so successful they are planning a second large building to increase their manufacturing capacity. Sophi Kravitz and I were greeted by the CEO, Nebojsa Matić in the picture at the top of this post.
MikroElektronika is well known for their mikroBUS click boards. These are standardized modules that host every sensor, display, input method, and communication scheme under the sun. Want a joystick? Yes. Bluetooth LE, ZigBee, WiFi, LoRa RF? All big yes. The image above shows the click boards that the customer support department had laid out for recent testing and this is far from all that are available.
MikroBUS is a standard for attaching peripherals which we've seen in many boards like the Microchip Curiosity. But of course MikroElektronika makes their own dev boards that use the form factor. Above is one of many development boards — this is for STM32 development but you name it an they probably have it — which includes a pair of mikroBUS slots in the upper right. The boards remind me of the 300-in-one electronics projects I did as a kid. Just add "embedded" to that title and we're living in a brand new age.
Once we had a look at the finished product it was off to see how everything is made. They have two sets of lines to populate all of their boards. Currently they do not make their own printed circuit boards but are hoping to change that with the new building. Once they get the PCBs from their fabricator, everything else is done on site.
Above you can see one of the technicians preparing the solder paste machine to apply paste to boards. From there it's into a huge and impressive pick-and-place machine. Just seeing the reels feeding the machine is beautiful. They have reflow ovens for the surface mount components, and in another room (not pictured) there is wave soldering. For me, the coolest machine in the place was the selective soldering machine. It has an upturned pipe underneath the board that has overflowing molten solder coming out of it. The board moves over this wand to solder through-hole components. Here is a random video of a selective soldering machine to give you an idea of what's going on here.
Museums
I was excited to get to the Museum of Science and Technology along with Mike Harrison and Chris Gammel. They have a huge exhibit of computer technologies and we dove right into the analog computers.
This huge PACE computer is impressive to behold. You get a real sense of where we come from when taking a picture of it with the $200 smart phone that you carry around in your pocket. A big part of the programming is the patch board which harkens back to telephone operators patching calls between lines. There were a number of other analog computing devices on display as well, I enjoyed this handheld analog calculator which uses a stylus to set up the calculation.
I should have realized that this computer would be on display, but it was a happy shock to see the Galaksija computer. This was a build-it-yourself personal computer developed by Voja Antonić. In 1983 when personal computers were getting going in Silicon Valley, the chips being used were unavailable in Yugoslavia because of embargo. Voja figured out a way around all of those problems and about 8,000 kits were purchased to so that people for the first time could have their own computer. Of course we know Voja Antonić well, he has been writing amazing articles for Hackaday and designed the Hackaday | Belgrade badge. His conference talk on the hardware will be published soon.
Maxeler
Finally we visited the Belgrade office of Maxeler. They are a high-speed computing company who have created an FPGA-based platform that can be used as a power-house for certain types of algorithms. Offloading software loops to the highly-parallel hardware can bring huge speed increases.
The hardware comes in two form-factors. Shown on the left is a $5,000 PCIe card that you can load into a desktop computer. The company has been making these available to University programs to aid in research and get their platform out to programmers as they learn their craft. On the right is a 1U server blade which can be loaded with up to eight of the FPGA modules.
The hardware alone is one small part of the puzzle. The rest depends on customizing the software so it knows when to call in the big iron. Maxeler has a Java-like programming environment to help with this, and a large part of their business is customizing client code to work with the hardware. One of the main use cases for Maxeler is financial analysis.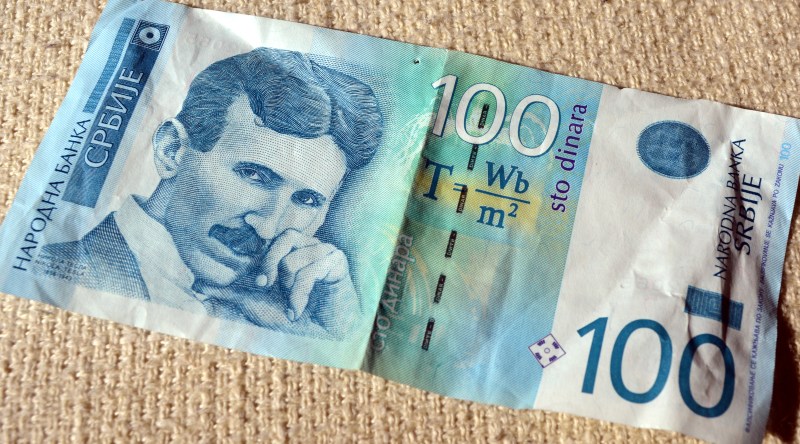 This is far from all we did in Belgrade, and there is much we didn't get to. The city, the people, and the history is amazing. You will feel welcomed and wanting to return.
I didn't make it to the Tesla museum this time around, but hopefully there will be another opportunity. Nikola Tesla, the famous inventor and forward thinker is from Serbia. I'll leave you with this image of 100 Serbian Dinar note that bears his image (and now adorns my office bulletin board). But what about that equation?