[Tsvetan Usunov] has been Mr. Olimex for about twenty five years now, and since then, he's been through a lot of laptops. Remember when power connectors were soldered directly to the motherboard? [Tsvetan] does, and he's fixed his share of laptops. Sometimes, fixing a laptop doesn't make any sense; vendors usually make laptops that are hard to repair, and things just inexplicably break. Every year, a few of [Tsvetan]'s laptops die, and the batteries of the rest lose capacity among other wear and tear. Despite some amazing progress from the major manufacturers, laptops are still throwaway devices.
Since [Tsvetan] makes ARM boards, boards with the ~duino suffix, and other electronic paraphernalia, it's only natural that he would think about building his own laptop. It's something he's been working on for a while, but [Tsvetan] shared his progress on an Open Source, hacker's laptop at the Hackaday | Belgrade conference.
As with any project, the first step is a good googling. By typing 'Do It Yourself Laptop' into the Mother Brain, you get back a list of projects that are ugly and certainly not as convenient as even the largest MacBook Pro. This build from 2007 features a Mini-ITX motherboard, with all the heat and power commensurate with this odd hardware choice. You could go old school, but again this is a project to build a usable laptop. Turning to the world of Raspberry Pis, these laptops are chunky, and this one is made out of a Little Caesars box.
To be fair, not all DIY, Open Source laptops are underpowered or covered in Crazy Bread crumbs. [Bunnie]'s Novena laptop is a work of electronic art, very capable, and a laptop that could conceivably make sense as a daily driver. The Novena isn't exactly a convenient laptop, though: it's rather chunky, the display is on the outside, and it doesn't have the grace of a MacBook Air or Thinkpad Carbon X1.
[Tsvetan]'s laptop combines all of these features, is lightweight, has a battery big enough to run all day, is elegant, stylish, and above all, open source. It's a laptop that will be modular, easy to repair and upgrade, and has spare parts that are cheap.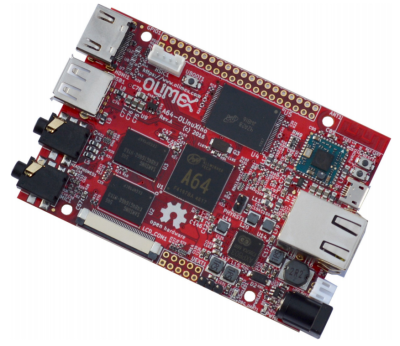 To that end, [Tsvetan] spent four months building a powerful ARM board based on a 64-bit Allwinner chip. There's HDMI, USB, output for an LCD, and this was made in KiCad, making the schematics and board files completely open source.
There's more to it than just an ARM single board computer running Linux to this laptop. Thanks to the recent advances of an Open Source Toolchain for the Lattice iCE40 FPGA, [Tsvetan] is thinking about making this open source laptop a true hacker's tool, with a logic analyzer, DSO, and DDFS generator.
What's the future of [Tsvetan]'s open source laptop? He should – hopefully – have a prototype running at TuxCon, held in Plovdiv, Bulgaria in early July. There's still a lot of work to do, but so far [Tsvetan] has contracted a plastics manufacturer for the case, found a nice eDP panel, small camera, speakers, a battery that will last at least six hours, and has a keyboard and touchpad working.
Building a laptop from scratch is among the hardest electronic manufacturing challenges we can imagine. It's a true full-stack development job, with skillsets ranging from writing custom drivers for Linux to the intricacies of injection molding. With any luck, [Tsvetan] and Olimex will have some kits ready by this September. That's an amazingly fast development time, and wouldn't be possible without putting all the design files up on the Internet from the start, allowing other enthusiasts to contribute to the creation of an Open Source laptop.