We've been 3D-printing parts for self-replicating machines before, but we've been working on the wrong machines. Software and robotics engineer [David Sanchez Falero] is about to set it right with his Hackaday Prize entry, a 3D-printable, open source, robotic prosthetic leg for humans.
[David] could not find a suitable, 3D-printable and customizable prosthetic leg out there, and given the high price of commercial ones he started his own prosthesis project named Drakkar. The "bones" of his design are made of M8 steel threaded rods, which help to keep the cost low, but are also highly available all over the world. The knee is actively bent by a DC-motor and, according to the source code, a potentiometer reads back the position of the knee to a PID loop.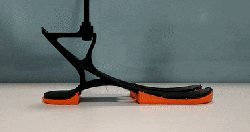 While working on his first prototype, [David] quickly found that replicating the shape and complex mechanics of a human foot would be too fragile when replicated from 3D-printed parts. Instead, he looked at how goat hooves managed to adapt to uneven terrain with only two larger toes. All results and learnings then went into a second version, which now also adapts to the user's height. The design, which has been done entirely in FreeCAD, indeed looks promising and might one day compete with the high-priced commercial prosthesis.