Makerspace North is unique out of the 5 makerspaces in the Ottawa, Canada area in that it started life as an empty 10,000 square foot warehouse with adjoining office spaces and large open rooms, and has let the community fill it, resulting in it having become a major hub for makers to mix in all sorts of ways, some unexpected.
Many makerspaces are run by an organization that provides tools that groups or individuals use, along with qualification courses for select tools. Makerspace North, on the other hand, provides the space and lets the community provide the maker component. The result is a variety of large scale events from indoor drone flying and various types of maker faire style days, to craft shows, garage sales, and even concerts. Smaller meet-ups, most often open to anyone, are held by such groups as the Ottawa Robotics Club and the Ottawa Electronics Club as well as some more general ones. Courses offered by the community are also as varied.
This also means that the owners of Makerspace North don't provide tools for people to use, but instead provide dedicated rental space. That doesn't mean there aren't tools — it means that Makerspace North encompasses a microcosm of various renters who fill out the task of things like tool rental. This is just one example of how the community has embraced the unique approach. Let's take a closer look at that and a few other novelties of this system.
Makers Renting Spaces
For Hackaday readers, the most familiar type of occupant in this space is Make613, a group of 4 makers. That's right, just four people rent a space where they house many of their tools to use in common, including a CNC machine, various machine tools and the usual drawers of hand tools.
On Sunday afternoons and Wednesday evenings they open the doors of their space and put out as many tables as needed for whomever wants to drop by and make stuff, get some help, do a show and tell, or just hang out. I got plenty of help this way for making a rubber band ornithopter and am a regular visitor, often bringing my latest creation and looking over everyone's shoulder to ask "Whatcha making?". People are only too eager to answer that question.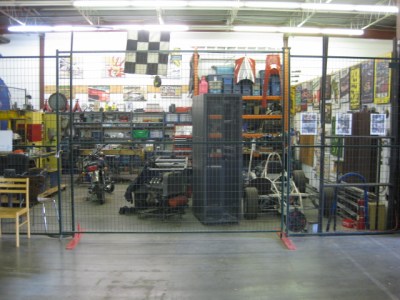 Another maker who rents space is race car enthusiast Mike Nilson. He uses his space for an ongoing project to restore his 1960 Formula Junior race car, visible on the right in the photo. He first bought it around 1980, but working on and racing other cars got in the way until he sold it in 1995 and bought it again in 2006. He has very little of the original body work and has to rely on photos. Having the car out in the open in the makerspace instead of hidden away in his basement provides some motivation to make progress and a big goal is to get it ready for the official Formula Junior race during the Formula Junior Diamond Jubilee in Canada in June 2018.
CNC Ottawa is a small company that rents a space right next to Make613 for doing CNC work for customers, including routing, cutting, engraving and design. In the photo you can see their 8'x4′ Shopsabre SideKick CNC machine.
And if you don't have your own tools then there's the Ottawa Tool Library, where for a $50/year membership you get unlimited access to borrow tools for up to 1 week. They also have events such as a recent garage sale where they sold off excess donated tools, and where I purchased a few things, including a coping saw to replace one which I can no longer find, and have already made great use of for cutting styrofoam. They also hold the occasional seasonal workshop for things like repairing your bike or making a planter.
The Ottawa City Woodshop started by two local fellows who have both a workshop in one of Makerspace North's large adjoining rooms and a classroom which they're building in the warehouse area. The classroom itself is a work of art. Being a frequent visitor to Makerspace North I've watched its gradual construction including them shaving massive beams down to size, chiseling out dados and rabbets and hammering beams in place. They teach woodworking courses where students make everything from toboggans, to tables, baseball bats, and skateboards, and also have memberships so that people can come in and work on their own projects.
What's was not expected was that all these renters would start sharing expertise, tools, getting each other to make parts, and after a long day of making stuff, have beers and barbecues together. The Make613 in particular takes this one step further and welcomes all comers in this sharing.
Events and Classes
Other organizations also host various events or classes either in the remaining open warehouse space or in the adjoining rooms and offices. A regular is NorthLabs which hosts a regular Wednesday maker gathering where anyone can come and share their work or just chew the fat. NorthLabs also has held classes and demonstrations on things like how to make a robot and how to buy a 3D printer, how to use it, how to design for 3D printing, and so on. Just this past weekend I dropped by while Random Hacks of Kindness was using up 4 of the office spaces for groups working on different IOT projects including an interesting beehive remote monitoring project. Did you know that just opening and closing a beehive kills around 20 of the 1000 bees in the hive, simply from collateral damage?
There's also an annual Arduino Day where people can bring in their Arduino (or other) projects for show and tell. The Ottawa Robotics Club and the Ottawa Electronics Club meet there regularly and are both open to anyone. There have even been meetups for flying drones in the warehouse but space is getting tight for that now.
There are many other things going on, more than can fit here and many that are less relevant to Hackaday. So where's the makerspace where people can come make things? Well, there's the Make613 space open to anyone on Sundays and Wednesdays and there's the wood workshop. But mostly there are endless occasions where makers can drop by and share, get help, or just hang out. It's basically a warehouse that's become a great space for makers, a maker magnet, albeit one with a different format than many would be familiar with.
Are there any interesting-format makerspaces or events you take advantage of in your area? Where do your makers meet and mix? Do you have opportunities like this where you live? We'd love to hear about them in the comments below.