Latvian artist [Krists Pudzens] just put on a show in Sweden and sent us the video of his amazing kinetic sculpture. (Embedded below.) We found an arty-theory writeup of another exhibition of his to share, but we had so many technical questions that we had to write him back asking for details. And boy, did he answer.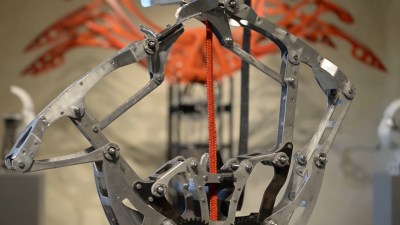 In the video, a couple of animatronic faces watch you as crab-like rope-climber bots inch upwards and red wings flap in the background. There's a lot of brilliant mechanisms here, and aside from whatever it all means, we just like to watch machines go.
The details! Most of the pieces are plasma-cut steel or hand-cut-and-filed aluminum, and almost all of the motors are windshield wiper motors from old Russian KAMAZ and LADA cars. In another installation, the red wings ("Red Queens' Race") were installed in a public square and used to track the crowd, flapping faster as people moved more quickly by.
The robotic faces also use OpenCV to track you, and stare you down. One mask is vacuum-formed plastic, and the other is a copy in polyester resin and gelcoat. Here is a video of them on their own, and another of the development.
The twin rope-climbers, "Unbalanced Force", just climb upwards at different paces. We were more than a little curious about what happens to the rope-climbers when they reach the top. [Krists] says the gallery staff grabs ladders and goes to fetch them. When he exhibited them in Poland on 20m ropes, they actually had to hire professional climbers. Life imitates art.
Some of us here at Hackaday are suckers for tech-art, whether it's 3D-printed baroque columns, dancing with metal-bending machines, or just glowing globs of ferrofluid. There's a lot of the same "wonder what would happen if…" tendency in the hacker and the artist — seeing possibilities and making them real.