This weekend at Maker Faire, Chipsetter showed off their pick and place machine. It is, in my opinion, the first pick and place machine designed for hackerspaces, design labs, engineering departments, and prototypers in mind. It's not designed to do everything, but it is designed to everything these places would need, and is much more affordable than the standard, low-end Chinese pick and place machine.
Inexpensive and DIY pick and place machines are familiar territory for us. A few years ago, we saw the Carbide Labs pick and place machine, a machine that allows you to put a board anywhere, pull chips out of tape, and place them on pasted pads. The Retro Populator is a pick and place machine that retrofits onto a 3d printer. The Firepick Delta, another Hackaday Prize project, takes a mini-factory to its logical conclusion and is capable of 3D printing, populating boards, dispensing paste, and creating its own circuit boards. All of these machines have one peculiarity: they are entirely unlike normal, standard, industrial pick and place machines.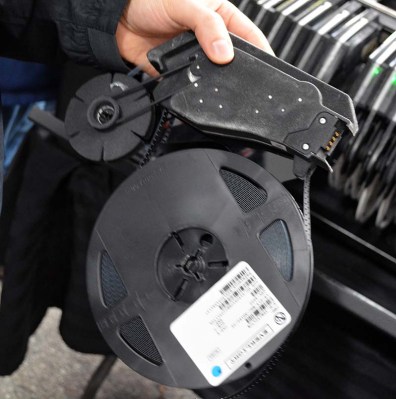 The idea of any startup is to build a minimum product, and the idea behind Chipsetter is to build a minimally viable tool. For their market, that means being able to place 0402 components (although it can do 0201, the team says the reliability of very small packages isn't up to their standards), it means being able to shoot 1250 components per hour, and it must have inexpensive feeders to accept standard tape.
This is a complete departure from the spec sheet of a machine from Manncorp. For the 'professional' machines, a single feeder can cost hundreds of dollars. According to Chipsetter founder Alan Sawula, the feeders for this machine will hopefully, eventually cost about $50. That's almost cheap enough to keep your parts on the feeder. A pro machine can handle 01005 components, but 0402 is good enough for most projects and products.
This is the closest I've seen to a pick and place machine designed to bridge the gap between contract manufacturers and hackerspaces. Most of the audience of Hackaday – at least as far as we're aware – doesn't have the funds to outsource all their manufacturing to a contract manufacturer. Most of the audience of Hackaday, though, or any hackerspace, could conceivably buy a Chipsetter. The Chipsetter isn't designed to be the best, but when it comes to placing parts on paste, the best is overkill by a large margin.
The Chipsetter has a Kickstarter going right now. They're about halfway funded, with a little more than three weeks to go. Right now, if you're looking at pick and place machines, I'd highly suggest checking out the Chipsetter. It works, and with forty feeders it's cheaper and more capable than the lowest priced 'pro' machines.