A while back I tried to make a case for good safety disciple as a habit that, when proactively pursued, can actually increase the quality of your work as a side effect. In those comments and in other comments since then I've noticed that some people really hate safety gear. Now some of them hated them for a philosophical reason, "Ma granpap didn't need 'em, an' I don't neither", or ,"Safety gear be contributin' to the wuss'ness of the modern personage an' the decline o' society." However, others really just found them terribly uncomfortable and restricting.
In this regard I can help a little. I've spent thousands of terrible long hours in safety gear working in the chemical industry. I was also fortunate to have a company who frequently searched for the best safety equipment as part of their regular program. I got to try out a lot.
Eyes
Get a prescription pair of glasses made. Take all those god awful plastic wraparounds and throw them right in the garbage. They're a great way cut off your thumb while wearing a hazy piece of fogged up consumer trash. I've tried everything from Harbor Freight to the fifty-dollars-a-pair kind. They are marginal improvements at best.
You don't actually need a prescription to get prescription glasses. Most health insurance will cover at least one pair of glasses a year regardless of any visual impairment. I recommend getting a pair of metal frame ANSI rated safety glasses with the biggest and dorkiest lenses possible. They will come with side shields and I'd just leave these on. Do not get an anti glare coating. Get the scratch resistant coating only. The anti-glare claims that it can resist scratching, but only in a regular context, not an industrial one. I worked in an environment with a lot of aluminum oxide dust and my safety glasses are still scratch free, so they really hold up. They're crystal clear and they can be worn for long hours.
Gerrit's Guide To Cleaning Safety Glasses:
I've worked with some really abrasive stuff. This is how to properly clean safety glasses without damaging them.
Absolutely do not touch or try to brush off any dirt from the lens. Compressed air will help in an emergency, but can also damage.
Rinse lens under hot water. Do not rub the lens.
Apply dish soap to lens. Scrub surface of both sides for each lens with fingers. Do not run under water during this step.
Rinse hands of soap and then holding by the arms, rinse the glasses under hot water until all the soap is gone.
Now, if you have access to it, I take one of those canned air blasters and blast the middle of the lense with air. This pushes all the water away and leaves you with a perfectly clean lens. Set aside to dry.
Eyes, Dust – Unless it's really dusty there's not much need for this. Regular glasses with side shields will keep a surprising amount of particulates away from the eyes. I really like the Uvex Stealth Over-The-Glasses goggles. Keep in mind that they scratch super easily. Buy a few replacement lenses and a cover unless you want to cut off your thumb.
Eyes and Face – The Horrible Freight full face shield is not a full face shield. It is a folder protector that someone glued to a headband. Real face shields are pretty thick and pretty heavy. The shield is replacable. Make sure to get the kind that has a click wheel strap (or that clips onto a hard hat if you need to wear a hardhat.
Hands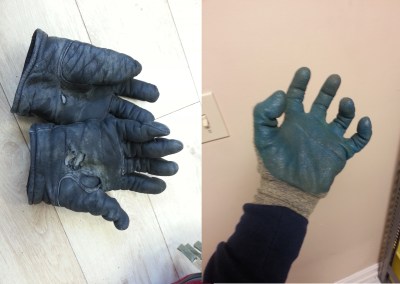 Hands, Regular Work – Don't get leather gloves. Leather gloves are sweaty, have terrible feel, and typically have weird joints that cause callouses. I highly recommend a modern pair of kevlar cut-proof cloth gloves. My personal favorite are the Nitrile Coated Ansell Hyflex gloves. After a few hours adjustment I don't even notice them even when doing fine work. I can type, write, etc. They come in lots of sizes — 9 or 10 fit most hands, but you can always go to the local industrial store and try some on to see.
Hands, Contamination, Fine Work – If you are worried about chemical contact or contaminating your work (i.e. getting finger oil on a lens) buying good quality disposable nitrile gloves is the way to go. It might be tempting to buy the pack of mystery blue gloves from Horrible Freight but they will just disappoint and tear. The better way to go is to buy the box of Nitrile gloves meant for medical exams. They have to resist cutting and tearing to ensure doctor and patient safety. They also have to give a lot of feedback to the doctor so they fit very well. I like the kind from Kimberly Clark, now Halyard.
Respiration
To start with respirators I'm just going to give a list of tips. I've worn them for twelve hours at a time and there's quite a bit that can go wrong and make them uncomfortable.
Do not wear a respirator without a head covering. I personally like to use a welding cap to cover my head. Otherwise the plastic straps will cut into your scalp and pull at your hair after a few hours.
Do not overtighten the straps. Tight straps do not equal good seal. It will just warp the gasket and hurt your head at the same time. Hold your hands over the intakes and suck in air If it glues to your face that's enough seal. Next hold your hand over the exhaust and put light pressure on it. If it holds that pressure without obviously blowing somewhere it's probably a good tightness and in good working order.
Get the right size. Most people (guys especially) go for a too large size. It's actually fairly cheap to go to an occupational health place and have them do a fit test. If you have the wrong size it won't seal and it will hurt.
Use the lightest filter possible. If all you are doing is cutting wood or working with regular dust you only need the P100 cloth filters. They are light and are easy to breath through. If you use a chemical filter or a heavy dust filter without good reason you're pretty much throwing money away and being uncomfortable for no reason.
Put the equipment on in the right order. Put on a head covering first. Follow that with the respirator. Put safety glasses on and hardhat last. This keeps the elastic straps from pressing your glasses onto your head uncomfortably. It makes a surprising difference.
Clean it often. I carried around a small bottle of dawn dish detergent and would regularly wash my respirator. The salt from sweat and fine dust can build up to irritate the skin at the gasket. They can also get smelly.
For those with beards- Keep a light stubble: Being absolutely clean shaven with a respirator is recommended by the manual but hell on the skin. It will irritate everything. I recommend having a light stubble.
Chew gum if you're not working with hazardous materials, brush your teeth often otherwise. – If you're wearing a respirator for a long stretch of time you will experience new levels of awful breath and an awful taste that's all yours to enjoy.
Check it for wear. The respirator has really thin silicone gaskets that seal the intake and exhaust. These will eventually wear out. You can order new ones or just throw the respirator away. There's no point in wearing it if it doesn't work. If the exhaust is broken you'll breath in dust. If the intake is broken you'll breath moisture into your filter and ruin it/have a really bad time breathing.
Lastly on the respirator side a good quality one will obviously help a lot. I like the 3M Professional Half-Face. It has a silicone gasket instead of a harder urethane rubber one. It doesn't need nearly as much force to seal properly and is just plain more comfortable.
Also don't buy a full face unless you really need one. They suck. You're not in war and you're likely not working with a highly toxic dust. If you are you're probably trained, have to put on a lot of protective lotion, duct tape the seams to everything, wear full tyvek, keeping clothes at work, and showering after every shift. If you really need full face protection and a respirator at the same time wear a full face shield over a half face. It's cooler and works the same.
Outer Wear and More
Fire, Dirt, Grime, and Cleanliness – Buying a nice Nomex jumpsuit is a great investment. They're a little pricey but they're fire resistant and last forever. You can also keep your clothes much much cleaner. I recommend the 4oz weight fabric. It's very light and cool. You may be tempted to buy a heavier cloth but it's not worth the money unless you're somewhere cold. Even so you can just wear a jacket underneath. Not everyone needs fire resistant clothing, but if you've ever been to a hackerspace it's not a bad plan. Keep in mind that the FR cotton is just coated and will lose its resistance after a few washes. Personally I've found SafTech to have the best fit and assortment of pockets.
Tyvek– Every now and then you really need to avoid what you're working on. Unless you're at a crime scene don't buy the heaviest tyvek suit you can. Look for words like breathable. Also, wearing a size up in tyvek is much preferable to wearing the exact size or a size down.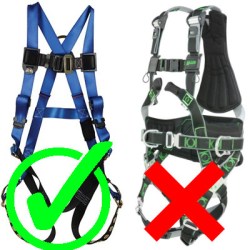 Fall Harness – If you find yourself needing a fall harness do not buy the fancy one with all the padding and crap. They are extremely uncomfortable. The simple strap harness is lightweight, flexible and comfortable. The only exception to this rule is if you are going to be leaning back against the harness all day for climbs. Falling hurts no matter what. The padding won't save you that much pain.
Boots – Buy good quality boots and learn to take care of them. My personal favorites are Red Wing (insiste on their Made in USA line) and for a cheaper and higher quality boot, Thorogood. Don't get a boot that look like a performance sneaker with all sorts of cloth crap everywhere. They wear out fast and stay dirty. The outside should be just leather.
Make sure the boots have a heel if you're going to be climbing a ladder with them or entering a heavy construction site. It actually does help with climbing ladders and not falling on your ass at a job site. Likewise, a non-slip sole is great. It's amazing how quickly a seemingly grippy boot sole can turn to teflon when in contact with soap or oil.
Do not buy winter boots unless you are really really going to be working in winter. You will sweat so bad. I've worked in some really cold winters with regular boots and just wore two socks. However. I will say that if you buy regular boots with a steel toe and expect to work in the cold your toes will freeze. A composite hard toe is a must if you are going to be working the cold. Actually, if composite is an option just get it because it's so much lighter.
Also, look for something called a GoodYear welt. This means that not only is your boot waterproof-able it is also serviceable. If you drop 110-300 dollars on a boot you should be able to get around five years or more of service out of it if you get the soles replaced. Also, replace the insoles every six months. Any environment that needs a boot is likely to be super hard on insoles. I like the Dr. Scholl's Work. It's cheap enough that I don't hate replacing it and it's fairly comfortable for lots of standing and work.
Last. Learn to take care of your boot. Make sure you loosen the laces and dry the inside after each wear. Also regularly clean and oil the leather. It makes the boot tougher and keeps it waterproof/resistant. I really like Obenauf's LP. It darkens the leather a bit but it makes it indestructible.
Guard Your Melon
Hard Hats – The hardhats themselves are more or less a matter of style. I think the regular plastic cap kind is pretty good for most everything. The bucket kind with the brim all the way around is great in dusty environments or when you might be working in rain, but you can never lean against anything or sit in a car comfortably with one on. The real secret to a comfortable hard hat is to get a click wheel harness for the inside. If you have to pull on any straps or slot any pegs into any holes just throw it in the garbage. Pain in the ass.
Can You Hear Me Now?
Hearing– Most people hate hearing protection the most. I don't really understand why. Good hearing protection isn't necessarily an 'all sounds volume reducer' it's more of a 'damaging sounds filter'. I find it considerably easier to hear my coworkers in a noisy environment while wearing hearing protection than without. Also, hearing is definitely the most unrepairable organ in your body. Any part of it you lose will be gone for good. You're not getting it back.
Buying a nice pair of fitted hearing protection is nice, but not necessary. I'd go to an industrial store and buy a few samples of the different kinds. I really like 3M E-A-Rsoft Yellow Neon Blasts Corded or Howard Leight LL-1-D Laser Lite Corded. The cord doesn't really get in the way and lets you hang them around your neck when you're in a quiet space. I've worn them for days on end and they don't hurt. Make sure to read the instructions, it makes a difference in how comfortable they are.
DO NOT BUY HARBOR FREIGHT EAR MUFFS. They are not rated. They don't protect your ears. They are a waste of money. 3M makes a nice pair. These can be used instead of earplugs for light noise. If you are in a really heavy noise area like right beside a diesel generator all day then double up. Plugs and Muffs.
This is just a general advice, but getting a hearing baseline done each year isn't a bad plan. It helps you tell if you need to change a safety habit.
Other General Tips:
If you are getting the slightest rash or blister from your equipment I highly recommend keeping a stick of Body Glide around.  It's meant to keep clothing from giving you a rash when you run, but whatever black magic is in this will also keep straps, gloves, etc from irritating your skin. It doesn't really leave much of a feeling and washes off with soap.
Buy good underwear. If you're going to be really working in heavy industry then don't fall for Big Box Store Specials. Performance underwear makes a huge difference for both genders.
Last of all. Store and care for it properly. Safety gear isn't cheap and the better repaired it is the more comfortable it will be.
Modern medicine has taught us just how fragile our bodies are while simultaneously increasing its ability to repair us. Many of us simply don't expect to die from a critical injury anymore. We expect our hands to be repaired. Our eyes to be expendable. Our ears to be easily aided and coaxed back into their full range. This expectation is wrong. I've worked in heavy industry and seen the road to recovery. I grew up with an occupational therapist and watched her coax back use into a damage limb over painful months. You will get some of your vision back if you're lucky. Some of your hand's range of motion. Maybe enough hearing to get around. It won't all come back and the technology to do that is medical likely still fifty or more years out.
It's important to cultivate not just a discipline for Safety equipment, but a love for it. One should be overcome with a profound sense of unease deep in their subconscious when their equipment isn't in perfect order. All it takes is one stray metal shard and the days of clear vision will be gone. This is not hyperbole. Learning to love your safety gear and having good safety gear is an important skill for a craftsman to have.
Now these recommendations are from my personal experience. What about the rest? Do any of you have recommendations for specific work? Anything from electronics to welding, home work to full industrial, we want to hear your experiences, woes, and recommendations for making safety gear a part of your life.