Sometime last summer, I suffered a very sad loss indeed. My soldering iron failed, and it was not just any soldering iron, but the Weller Magnastat temperature-controlled iron that had been my iron of choice since my student days. It was time to buy a replacement, and a whole world of soldering equipment lay before me. In the end I settled on a choice that might seem unexpected, I bought an Antex TCS 50W temperature controlled iron with a digital temperature controller and LCD display in its handle.
No room for a poor iron
When looking at a new iron it's worth considering for a moment what requirements you might have.  After all, while we'd all love to own a top-of-the range soldering station it's sometimes necessary to target your purchase carefully for an acceptable blend of affordability, reliability, and performance. It's possible to find temperature controlled irons for astoundingly low prices these days, thanks to the wonders of globalised manufacturing. But the irons themselves will not be of good quality, their bits will be difficult to replace, and sometimes they are better described as variable temperature rather than temperature controlled. If I was to escape a poor choice I'd have to set my sights a little higher.
Antex are a perennial in the world of British electronics, their signature yellow-handled irons have been around for decades. They aren't priced at the top end of the market yet they have a pretty good reputation, but could their all-in-one temperature controlled iron be a good alternative to a unknown-name iron that came with a soldering-station-style controller? I parted with my £55 (about $68) before taxes, and waited for the delivery.
All-in-one, win or bin?
The iron I chose is the latest in a long line of their all-in-one temperature controlled irons, and so the blurb tells me, the first with digital control. Previous models had an analogue adjustment which if I recall correctly was achieved by means of a screw, while this one has an LCD display with up and down buttons on its handle.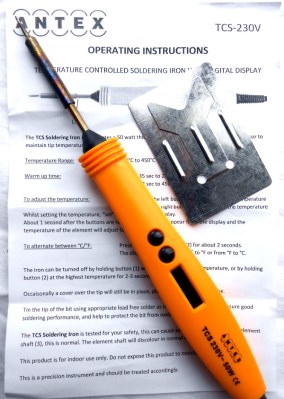 In the box are the iron, a rather useless stand made from metal sheet, and an instruction leaflet. Fortunately my requirements included a decent stand, so I'd already ordered the more substantial companion product with a sponge. Out went the sponge and in went a bundle of brass turnings, but the stand itself is fine.
The iron has the usual Antex bit that fits as a sleeve over the cylindrical element. I bought a range of bits of different sizes, it's never a bad thing to have choice. The handle is bigger than their standard irons as you might expect, but has a flattened and curved profile that's easy on the hand. It's noticeably lighter than the Magnastat, which along with its extra-flexible silicone cable makes it easier to use than its predecessor.
In use, the extra length of the handle doesn't compromise soldering ability. In the time since purchase it has been used to construct multiple projects, and everything from the smaller surface-mount components upwards are taken in its stride. The 50 W element has plenty of power for soldering to PCB planes that suck away the heat, though you probably wouldn't use it to solder heavy-gauge copper.
The temperature range of 200 to 450 Celcius is ample for my requirements, in fact once I'd set it to my normal 360 degrees I've never changed it. Time from power-on to full working temperature is about 45 seconds, which isn't the fastest on the block, but then again since I turn it on when I sit down it's not ever been an issue.
A match made in heaven
So, based on quite a few months of regular use, I'm happy with my iron. The question is though, was it the best choice? I think so, given that the competition at the price would almost certainly not come with such readily available support. There's almost an instinctive distrust of all-in-one temperature-controlled irons that I haven't found to be justified by the reality. An alternative might have been to build one of the clever designs that adds a temperature controller to a Weller tip, but given that this is an iron I sometimes use to earn a living I'd rather be working for cash than working on my iron. There are certainly cheaper irons and there are probably better irons, but for me this one hits the sweet spot between the two sets of being a good enough iron without being too expensive.