If you were to nominate a technology from the 19th century that most defined it and which had the greatest effect in shaping it, you might well settle upon the railway. Over the century what had started as horse-drawn mining tramways evolved into a global network of high-speed transport that meant travel times to almost anywhere in the world on land shrank from months or weeks to days or hours.
For Brits, by the end of the century a comprehensive network connected almost all but the very smallest towns and villages. There had been many railway companies formed over the years to build railways of all sizes, but these had largely conglomerated into a series of competing companies with a regional focus. Each one had its own main line, all of which radiated out from London to the regions like the spokes of a wheel.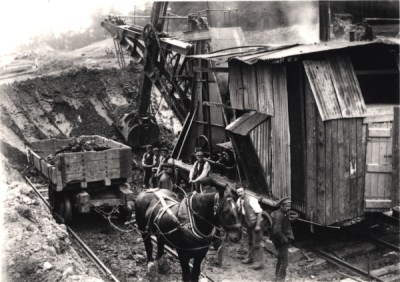 By the 1890s there was only one large and ambitious railway company left that had not built a London main line. The Great Central Railway's heartlands lay in the North Midlands and the North of England, yet had never extended southwards. In the 1890s they launched their ambitious scheme to build  their London connection, an entirely new line from their existing Nottingham station to a new terminus at Marylebone, in London.
Since this was the last of the great British main lines, and built many decades after its rivals, it saw the benefit of the century's technological advancement. Gone were the thousands of navvies (construction workers, from "Navigational") digging and moving soil and rock by hand, and in their place the excavation was performed using the latest steam shovels. The latest standards were used in its design, too, with shallow curves and gradients, no level crossings, and a wider Continental loading gauge in anticipation of a future channel tunnel to France This was a high-speed railway built sixty years before modern high-speed trains, and nearly ninety years before the Channel Tunnel was opened.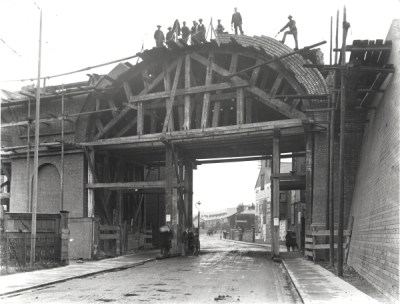 We are fortunate in our ability to see the construction of the line at first hand, because a professional photographer and railway enthusiast recorded every aspect of its construction. S.W.A. Newton traveled the length of the emerging line with his camera, and his archive gives us a fascinating glimpse of the cutting edge of 1890s civil engineering practice in operation as well as a cross-section of everyday life in late Victorian England. We see details of the substantial brickwork and riveted girders that carried the new line over existing roads and railways, we see impressive earthworks built up by endless contractors' tipping trains on temporary track, and there are plenty of pictures of the Ruston steam shovels at work. Alongside this demonstration of 19th-century civil engineering might, we find horse-drawn wagons, pictures of the rural hamlets and villages surrounding the line, and the temporary camps that housed the navvies and their families.
The Newton Great Central collection appears in several places online, as well as the Leicestershire County Council site linked above there is another resource that allows you to tie photographs to modern maps and buy prints. It's quite possible that many readers could spend a lot of time browsing this world of another century's railway construction.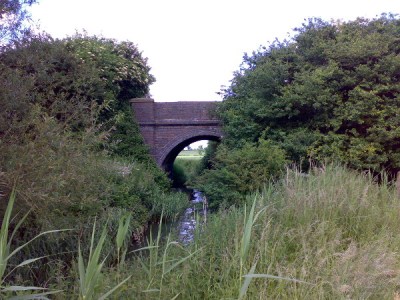 The Great Central London Extension was a modest success, but it never successfully tackled its fundamental problem of not passing through any major population centres south of its Midlands heartland. Small market towns like Brackley gained mainline stations, but there was nowhere of significance that relied upon it. As the railway companies were amalgamated in the 1920s it became an insignificant part of the much larger London and North Eastern Railway, and when the railways were nationalised after World War Two it entered a period of decline. It was eventually closed in the Beeching rationalisation of the system in the 1960s, and today only the southern section into Marylebone survives as a London commuter line and a short section at Loughborough as a preserved steam railway. If you are a Top Gear fan you may have seen Clarkson and cohort towing caravans along it a few years ago. The rest of the line remains derelict or has been obliterated by more recent development. Meanwhile the foresight of the original design in creating a high speed railway has surfaced again in the 21st century, as a substantial section of its route is to be followed by the planned HS2 200mph+ high speed railway.
Header image, 70013 "Oliver Cromwell" leaving Quorn on the preserved section of the Great Central. Paul Lucas (CC BY 2.0), via Flickr.