[FESTO] keeps coming up with new tricks that make us both envious and inspired. Take their bionicANTs for example. Watching a group of them cooperate to move objects around looks so real that you're instantly reminded of the pests crawling across your floor, but looking at them up close they're a treasure trove of ideas for your next robot project.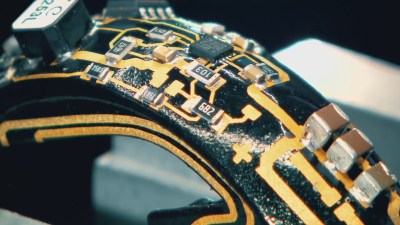 The exoskeleton is 3D printed but they then use the outer surface of that exoskeleton as a circuit board for much of the circuitry. The wiring is "painted on" using a 3D MID (Molded Interconnect Device) process. While FESTO didn't give specifics about their process, a little research shows that 3D MID involves the 3D printed object being made of a special non-conductive metal material, a laser then "drawing" the traces in the material, and then dipping the object in various baths to apply copper, nickel and gold layers. We mortal hackers may not have the equipment for doing this ourselves in our workshops but seeing the beautiful result should be inspiration enough to get creative with our copper tape on the outer surfaces of our 3D printed, CNC'd, or hand-carved parts.
We also like how they took a the mouse sensor from under a regular computer mouse and attached it to the ant's underside, pointing down for precision dead reckoning. For the legs they used three piezo bending transducers. However, these give a deflection of only 1.5mm in both directions, not enough for walking. They increase this to over 10mm with the addition of a plastic hinge, another idea to keep in mind when building that next tiny robot. And there are more ideas to be taken advantage of in their ants, which you can see being built in the video below.
But this isn't the only time FESTO's creative ingenuity has been shown here on Hackaday. Check out their bionic kangaroo that actually hops around, their robotic bird that has to be the most life-like one we've see yet, or how about their flying manta ray blimp instead.