Newborn humans are both amazingly resilient and frighteningly fragile creatures. A child born with a 40 full weeks of gestation has pretty good odds of surviving the neonatal period these days, and even if he or she comes along a few weeks early, things usually go smoothly. But those babies that can't wait to get out and meet the world can run into trouble, and the earlier they're born, the greater the intervention needed to save them.
We've all seen pictures of remarkably tiny babies in incubators, seemingly dwarfed by the gloved hands of an anxious parent who just wants that first magical touch of their baby's skin. As common as such an intervention is now and as technologically advanced as neonatology is, care for premature infants as a medical discipline has a long and interesting history of technical and social hacks that's worth looking at.
There was a time when most infants were born at home, and childbirth was strictly woman's work. Mother and midwife, and perhaps the future grandmother or aunt, were generally the only ones allowed in the birthing room. Doctors, uniformly male at the time, were not welcome and generally not needed.
Complications were common, of course, and the medical community gradually began to increase the doctor's role in childbirth, particularly in unusual cases such as premature delivery. A Paris obstetrician, Stephane Tarnier, began to notice that premature infants, most of whom lack the insulating body fat of full-term babies and a fully developed thermoregulation system, need more than warmth to survive. He realized that infection was also a risk to the neonate with a still-developing immune system, and started using "incubator cribs" in the Paris Maternité in 1881. These incubators were inspired by poultry-egg incubators and were little more than wooden boxes with a glass lid. Warmed by water bottles, they required constant attention, but the combination of heat, humidity, and isolation, along with proper nutrition and round the clock care, reduced the infant mortality rate in the Maternité by 28% in three years.
Heretic
Despite the advances made by the good Dr. Tarnier, he still faced an uphill battle bucking conventional medical wisdom at the time, which said that helping premature infants was a fool's errand. Dr. Tarnier stuck to it, though, attracting students to his methods. He passed the torch to Dr. Pierre Budin upon his retirement, and by the last decade of the 1800s incubators were becoming more accepted, and the treatment of premature infants was becoming expected.
But there remained a problem: the round the clock care demanded by these tiny humans was expensive. On top of that, incubators were getting more sophisticated – gone were the days of hot water bottles; incubators were now thermostatically controlled and automatically ventilated — and therefore more expensive. Many parents lacked the means to care for a premature infant using the latest methods, with predictably tragic results.
As a way to fund neonatal care and bring it to parents of more modest means, Dr. Alexandre Lion, inventor of a new and sophisticated incubator, hit upon the idea of setting up a neonatal care ward in a street-level storefront in Paris. Passersby were enticed to enter for a fee and observe the very latest in neonatal care. These "incubator charities" were wildly successful, and they began to spring up throughout France. Eventually, Dr. Lion put together a Kinderbrutenstalt, or "child hatchery," for the Berlin Exposition of 1896, which was a huge hit that raised a lot of money and educated the public about neonatal care.
Incubators Taken on World Tour
Enter one Martin Couney, an associate of Dr. Budin. Couney is a shadowy figure — he was born somewhere in Germany sometime in either 1860 or 1870, and he may or may not have actually been a medical doctor. Whatever his professional credentials, he was clearly a showman. He was tasked by Budin to take part in the Kinderbrutenstalt where he made contact with a London-based promoter to bring the show to England for the Victorian Exposition.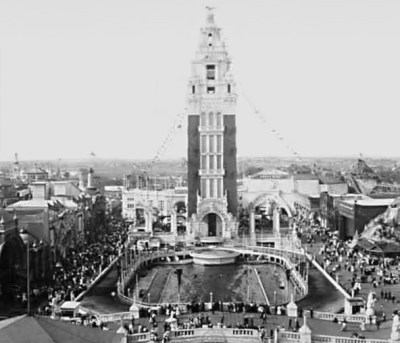 Dr. Couney's success in London, which came despite the fact that local doctors refused his request for preemies, forcing him to import a shipment of Parisian preemies for the occasion, led to appearances at multiple expositions across Europe over the next few years. Eventually he brought his incubator show to America for the Pan-American Exposition in Buffalo in 1901, again to rave reviews. The tiny baby business was booming, and as a consequence, a lot of preemies were being saved.
When Dr. Couney eventually decided to move to the United States permanently in 1903, and settled in the one place where a showman of his magnitude could — Coney Island, NY. There he set up a shop on the boardwalk, showing off his "All the World Loves a Baby" show every summer for the next 40 years. His show competed with dozens of others in the typical way; colorful signs, waifs distributing handbills in the crowds, and barkers entreating folks not to miss the show. One struggling actor who did time as a barker for Dr. Couney's show was a young Archibald Leach, whom the world would later know as Cary Grant.
The End of an Odd Era
Couney always stated that he never took a dime from the parents to care for the babies. He took his show on the road frequently, culminating with a last hurrah at the 1939 World's Fair in Flushing Meadows, New York. He closed down the Coney Island sideshow a few years later, since by then incubator care for preemies had become more or less mainstream. That means the last crop of Dr. Couney's sideshow preemies is just hitting their mid-70s.
To our 21st century sensibilities, putting babies on display to raise money is perhaps a little unseemly. The early "incubator charities" seem a little more refined than a boardwalk sideshow for "two bits a gander," but at the end of the day, Dr. Couney and his showman-physician predecessors did what they could to keep the babies alive and advance the technology to do so. Is it really that much different than any modern-day crowdfunding effort? And as for its unseemliness, is it any different than your reality-show Duggars or Honey Boo-Boos or OctoMoms? At least the sideshows ended up advancing the state of the art while coarsening the culture.
So spare a thought for Dr. Couney and the others the next time you see a preemie in an incubator, which might not be as advanced without their showmanship.