For this week's Hack Chat on Hackaday.io, we'll be talking with AnnMarie Thomas about making electronics for education. There's a huge intersection between electronics and education, and whether you're designing robots for a FIRST team or designing a geometry curriculum around 3D-printed objects, there's a lot electronics can teach students.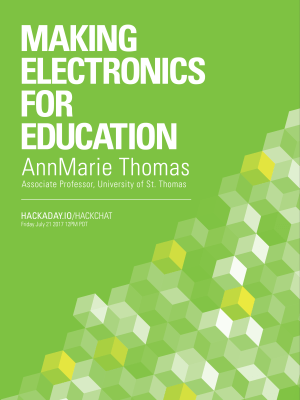 AnnMarie Thomas is an associate professor at the School of Engineering and the Opus College of Business at the University of St. Thomas. She's the founder of the Playful Learning Lab, and along with her students she's created Squishy Circuits. AnnMarie is the author of Making Makers: Kids, Tools, and the Future of Innovation. Basically, if you're looking for someone who knows how to make an educational product, you can't do any better.
For this week's Hack Chat, we'll be talking about how to define how technology and education can intersect. There are ways to define a concept, build and sell an educational product, and how to find a market for a product. If you've ever wanted to know what goes into getting students to dive into electronics, this is the Hack Chat you have to sit in on.
Oh, AnnMarie is also a judge for this year's Hackaday Prize. Neat.
Also on deck for this week's Hack Chat will be Tindie. Tindie is Supplyframe's (Hackaday's parent company) answer to the question, 'where should I sell my hardware product'. Think of it as 'Etsy for electronics', but with less furniture made out of pallet wood, but paradoxically more products that require a California prop 65 warning. Isn't electronics fun?
Here's How To Take Part: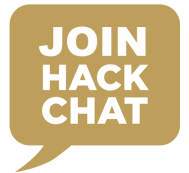 Our Hack Chats are live community events on the Hackaday.io Hack Chat group messaging. This Hack Chat will take place at noon Pacific time on Friday, July 21st. Confused about where and when 'noon' is? Here's a time and date converter!
Log into Hackaday.io, visit that page, and look for the 'Join this Project' Button. Once you're part of the project, the button will change to 'Team Messaging', which takes you directly to the Hack Chat.
You don't have to wait until Friday; join whenever you want and you can see what the community is talking about.