3D printing technologies have come a long way, not only in terms of machine construction and affordability but also in the availability of the diverse range of different printing materials at our disposal. The common consumer might already be familiar with the usual PLA, ABS but there are other more exotic offerings such as PVA based dissolvable filaments and even carbon fiber and wood infused materials. Researchers at MIT allude to yet another possibility in a paper titled "3D-Printed Self-Folding Electronics" also dubbed the "Peel and Go" material.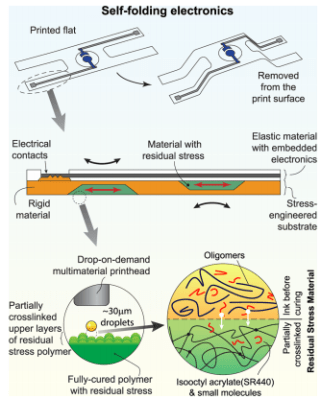 The crux of the publication is the ability to print structures that are ultimately intended to be intricately folded, in a more convenient planar arrangement. As the material is taken off the build platform it immediately starts to morph into the intended shape. The key to this behavior is the use of a special polymer as a filler for joint-like structures, made out of more traditional but flexible filament. This special polymer, rather atypically, expands after printing serving almost like a muscle to contort the printed joint.
Existing filaments that can achieve similar results, albeit after some manual post-processing such as immersion in water or exposure to heat are not ideal for electronic circuits. The researchers focus on this new materials potential use in manufacturing electronic circuits and sensors for the ever miniaturizing consumer electronics.
If you want to experiment printing extremely intricate structures, check out how [_primoz_] brilliant technique revolutionized how the 3D printing community prints thin fibers, bristles, and lion sculptures.