As this clock's creator admits, it took far more than five minutes to put together, but it does display the time in five minute increments.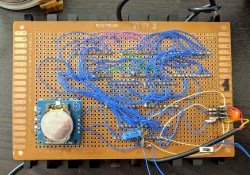 After acquiring five 4-character, 16 segment display modules that were too good to pass up, they were promptly deposited in the parts pile until [JF] was cajoled into building something by a friend. Given that each display's pins were in parallel, there was a lot of soldering to connect these displays to the clock's ATMega328P brain. On the back of the clock's perfboard skeleton, a DS1307 real-time clock and coin cell keep things ticking along smoothly. The case is laser cut out of acrylic with an added red filter to up the contrast of the display, presenting a crisp, crimson glow.
Troubleshooting — as well as procrastination — proved to be the major stumbling block here. Each of the displays required extensive troubleshooting because — like Christmas lights of yore — one bad connection would cause all the other displays to fail. Furthermore, there isn't any easy way to change the time, so the clock needs to be reprogrammed once in a while
We love word clocks because there are so many ways to configure them and for the oddities. That isn't to say radial clocks are any less creative.
[Thanks for the tip, Dimitry!]