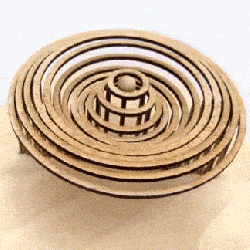 Most modern automata are hand-cranked kinetic sculptures typically made from wood, and [videohead118] was inspired by a video of one simulating a wave pattern from a drop of liquid. As a result, they made a 3D printed version of their own and shared the files on Thingiverse.
In this piece, a hand crank turns a bunch of cams that raise and lower a series of rings in a simulated wave pattern, apparently in response to the motion of a sphere on a central shaft. The original (shown in the animation to the right) was made from wood by a fellow named [Dean O'Callaghan], and a video of it in its entirety is embedded below the break.
If this sort of thing piques your interest, you can see examples of some modern takes on the art or marvel at the 240 year old clockwork masterpiece known as the "Boy Writer".