Score everything in the Hackaday store for 50% off right now.
Today is Thanksgiving in the United States, a time when people migrate back home to spend time with families, fill themselves with Turkey and cranberry sauce, and are inevitably dragged out to the big box stores in search for that one great deal to satisfy their consumer urge.
Whether you observe the holiday or not, you can grab some geeky stuff from the Hackaday Store without the early rise or the need to be in a specific place. You'll find a collection of some of our favorite hardware, sweet Hackaday apparel, and our beloved print goods sprinkled in. Give it a look.
Fly a quad indoors with the CrazyFlie 2.0, impersonate USB devices with the Facedancer21, and have a blast with our favorite clock kit, the Bulbdial Clock.
Assemble and program your own robotic MeARM, be the master of all things serial bus with the GoodFET42, and monitor the juice flowing to your USB device with the USB Tester 2.0.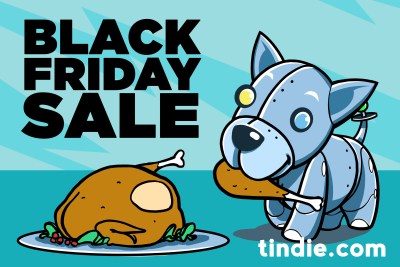 Hundreds of Tindie Items are also on sale this weekend. Tindie where you go to find unique and cutting edge hardware sold by those that designed it. Check out to the Tindie sale page for a complete listing of items going on sale now and throughout the weekend.