We don't do financial planning here at Hackaday, so we won't weigh in on the viability of making money mining cryptocurrency in such a volatile market. But we will say that if you're going to build a machine to hammer away at generating Magical Internet Monies, you might as well make it cool. Even if you don't turn a profit, at least you'll have something interesting to look at while you weep over your electricity bill.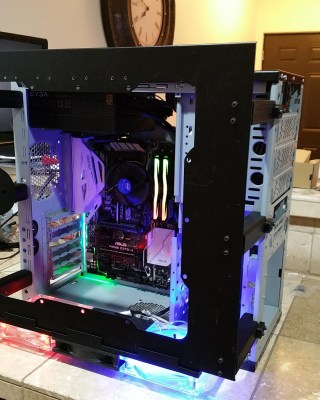 Sick of seeing the desktop machine he built a decade ago gathering dust, [plaggle24w5] decided to use it as the base for a cryptocurrency mining rig. Of course, none of the original internals would do him any good, but the case itself ended up being a useful base to expand on. With the addition of some 3D printed components, he stretched out the case and installed an array of video cards.
To start with, all the original plastic was ripped off, leaving just the bare steel case. He then jammed a second power supply into the original optical drive bays to provide the extra power those thirsty GPUs would soon be sucking down. He then designed some 3D printed arms which would push out the side panel of the case far enough that he could mount the video cards vertically alongside the case. Three case fans were then added to the bottom to blow air through the cards.
While [plaggle24w5] mentions this arrangement does work with the case standing up, there's obviously not a lot of air getting to the fans on the bottom when they're only an inch or so off the ground. Turning the case on its side, with the motherboard parallel to the floor, allows for much better airflow and results in a measurable dip in operating temperature. Just hope you never drop anything down onto the exposed motherboard…
Mining Bitcoin on desktop computers might be a distant memory, but the latest crop of cryptocurrencies are (for now) giving new players a chance to relive those heady early days.