It can be disheartening when a favoured device begins to break-down. Afflicted by an all-but-dead battery and a fritzing-out hard drive, Redditor [cswimc] sensed the imminent doom creeping up on their 6th generation iPod, and responded by reviving and upgrading the decrepit device instead!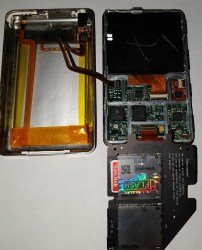 It's no easy task to crack open one of these things, so they found themselves taking their time and carefully wedging the pry tool between the front and back covers, working their way around the exterior. Once separated, gingerly disconnecting the few ribbon cables allowed the iPod to be opened fully. From there, they turned to  swapping out the original hard drive for an iFlash dual SD card board — one of the cards turned out to be a dud, but 128GB is still a step up from 80GB — and a new 3000mAh battery. Combined with replacing the power-hungry HDD, the battery life has been overwhelmingly increased over the original's 650mAh capacity!
Before re-sealing the iPod, they tested to see if the device was functional, and then ran the recover and restore functions. They also replaced the original software with Rockbox, breaking free from iTunes — although that step is optional.
There are more drastic upgrades out there — some dating back to the heyday of iPods — but this one keeps the form factor from growing out of control.
[Via /r/DIY]