If a hacker today wanted to build a simple game, he or she could whip it up using an Arduino board and a few other bits and pieces in about an hour, only to be greeted with "where's the hack?" But when you look at [OiD]'s SPEBEG (Single Player Eight Bit Electronic Game), you'll understand why building anything using old-skool 70s tech is so awesome and educational.
The SPEBEG is a simple 8-bit game where you aim with the joystick at the target and fire to gain points. As your score increases, so does the game speed. It doesn't need a single line of code, since the whole design is completely hardware based. And it uses the venerable 555. The display is an 8×8 LED matrix while score and levels are displayed on two 7-segment LED displays.
An 8-bit bus forms the backbone of the game and it is all held together by lots of 74-series TTL logic. The 555 provides a 47 kHz secondary clock, while the 100 Hz signal after the rectifier diodes is used to introduce the essential "randomness" that every game requires. [OiD] does a good job of describing the whole circuit by breaking it down into byte-sized chunks and walking us through each. For something so simple to build using modern technology, he needed over 25 different chips to build it, and ended up setting himself back by almost 200 €.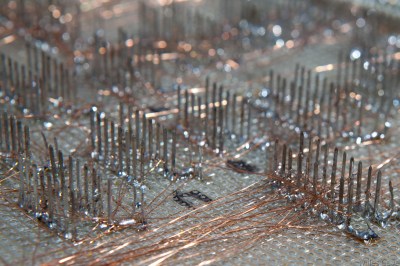 But there's one more part of this project that amazes us, and that is its construction technique. [OiD] purchased IC sockets with extra long pins and a lot of thin, enamel (insulated) copper wire. A soldering station with a fine tip and high temperature setting allowed him to heat the end of the copper wire to melt its enamel insulation, so it could be soldered to the long pin sockets. Using this method, he assembled the circuit using point-to-point soldering, pretty much like wire wrapping. Only, instead of wrapping the wires, he soldered them.
Despite all of his efforts, the game was pretty much unplayable when he first built it almost five years back. He recently pulled it out of storage, swatted all the hardware bugs, and fixed it nicely. Check out the video after the break. [OiD]'s project is decidedly more simple compared to this game that was Fabricated from the Original Arcade Pong Schematics.