With the successful launch of the Bangabandhu-1 satellite on May 11th, the final version of the Falcon 9 rocket has finally become operational. Referred to as the "Block 5", this version of the rocket is geared specifically towards reuse. The lessons learned from the recovery and reflight of earlier builds of the F9 have culminated into rocket that SpaceX hopes can go from recovery to its next flight in as few as 24 hours. If any rocket will make good on the dream of spaceflight becoming as routine as air travel, it's going to be the Falcon 9 Block 5.
While there might still be minor tweaks and improvements made to Block 5 over the coming years, it's safe to say that first stage recovery of the Falcon 9 has been all but perfected. What was once the fodder of campy science fiction, rockets propulsively lowering themselves down from the sky and coming to rest on spindly landing legs that popped out of the sides, is now a reality. More importantly, not only is SpaceX able to bring the towering first stage back from space reliably, they're able to refuel it, inspect it, and send it back up without having to build a new one for each mission.
But as incredible a technical accomplishment as this is, SpaceX still isn't recovering the entire Falcon 9 rocket. At best, they have accomplished the same type of partial reusability that the Space Shuttle demonstrated on its first flight all the way back in 1981. Granted they are doing it much faster and cheaper than it was done on the Shuttle, but it still goes against the classic airplane analogy: if you had to replace a huge chunk of the airliner every time it landed, commercial air travel would be completely impractical.
SpaceX has already started experimenting with recovering and reusing the payload fairings of the Falcon 9, and while they haven't pulled it off yet, they'll probably get there. That leaves only one piece of the Falcon 9 unaccounted for: the second stage. Bringing the second stage back to Earth in one piece might well be the most challenging aspect of developing the Falcon 9. But if SpaceX can do it, then they'll have truly developed humanity's first fully reusable rocket, capable of delivering payloads to space for little more than the cost of fuel.
Different Stages, Different Challenges
While the first stage is there to get the payload up, it could be said that the second stage is responsible for moving the payload sideways. The second stage absolutely pours on the speed: on the most recent launch it accelerated the payload from 8,019 km/h at stage separation to the 26,967 km/h required to maintain low Earth orbit in just a few minutes. Once the payload separates and continues on with its mission, the second stage is for all intents and purposes its own spacecraft moving at orbital speed and altitude.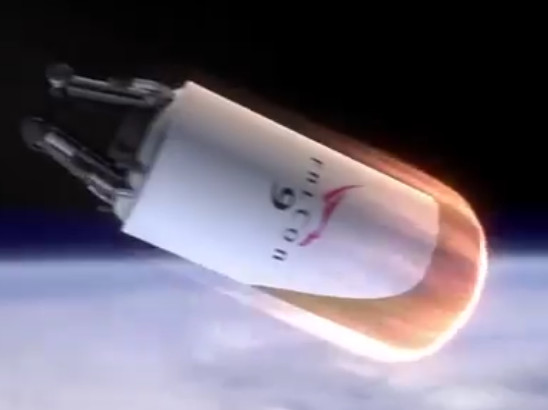 Bringing it down to a gentle landing on Earth therefore has all the same challenges of landing any other spacecraft, except for the fact that the second stage has none of the hardware that would traditionally be necessary to pull off such a feat. It's a bit like trying to land an airplane without landing gear. Or wings.
In early concept videos from SpaceX, the second stage was shown outfitted with a heat shield, landing legs, and even a retractable engine nozzle. All of these features would have worked together to make the stage capable of the same autonomous propulsive landings the first stage performs. But the problem with this "super" second stage is weight.
Every kilogram of recovery gear added to the second stage is one less kilogram of payload delivered to space. For a commercial launch provider like SpaceX, that is a problem. Fortunately, the Falcon 9 tends to be underutilized by most payloads, so there's some wiggle room to play with. For example, the Bangabandhu-1 satellite weighed approximately 3,700 kg, which is less than half the Falcon's capability for that particular launch profile: geostationary transfer orbit. So if the recovery hardware can be limited to less than 1,000 kg or so, it shouldn't have an impact on the kinds of payloads the Falcon is likely to encounter.
An Unexpected Solution
Weight really adds up when building spacecraft. Consider that the landing legs on the Falcon 9 first stage weigh around 2,000 kg on their own. Any attempt at recovering the second stage needs to be done with the absolute minimum of additional hardware. A full heat shield like the Dragon capsule has would likely eat up too much of that mass budget, same with the "grid fins" used to stabilize the first stage as it falls back down to Earth.
So how do get the second stage through the atmosphere and stabilize it? The first hint at the answer comes from a recent Tweet by Elon Musk: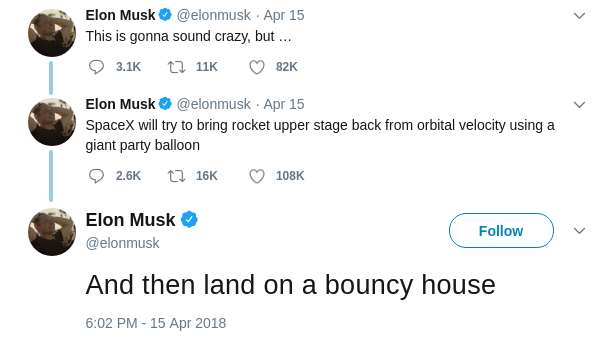 Party balloons and a bouncy house? If anyone else said something like that, we'd just assume it was kind of joke. But we thought it was a joke when he Tweeted about sending his Tesla Roadster to space, and we all know how that turned out. So what does it all mean?
Meet the Ballute
The idea of using an inflatable balloon to slow down high altitude supersonic vehicles was pioneered in 1958 by Goodyear. NASA demonstrated that the so-called ballute (as it's both a balloon and parachute) concept could be used for spacecraft reentry when a small one was used to safely decelerate a test article from Mach 4.2 in 1968. Unfortunately tests with larger ballutes failed, and ultimately the concept was never used for the space program.
From Elon's Tweets, it looks like SpaceX is looking to revisit the ballute concept, using it to ease the Falcon 9's second stage journey through the atmosphere. After performing a de-orbit burn, the second stage could deploy a ballute to help slow and stabilize it as it comes back down from space. But that's only half the problem. You still have to get it on the ground without damaging it.
Catch a Falling Star Stage
With the second stage at a low enough altitude and speed thanks to the ballute, it could then deploy either a traditional parachute of parafoil to make the final approach towards the recovery point. As the second stage would likely not have any landing gear or legs due to weight constraints, the landing area would apparently be an inflatable structure of some type that can catch the stage without damaging it. In principle this is very similar to the work currently being done to catch the Falcon 9's fairings with a large ship-mounted net.
Again, this would borrow heavily from earlier NASA research. In 1963, experiments were performed to determine if the first stage of the Saturn rocket could be recovered using an inflatable wing structure.
Iterative Design
At the risk of trivializing the accomplishments of SpaceX, it's fair to say that very little of their technology is actually new. Rather, they combine Silicon Valley style R&D and modern construction techniques with technology pioneered during the Space Race of the 1960's to rapidly produce evolutionary improvements. This allowed them to get to orbit in a fraction of the time it would have taken had they started completely from scratch, and now it seems they'll be turning their attention towards iterating through NASA recovery concepts from the Gemini and Apollo programs to help turn Falcon 9 into the world's first truly reusable rocket.
That said, it wouldn't be the first time SpaceX abruptly changed their approach. The final method for second stage recovery could be vastly different from what Elon has been hinting at. It's also possible that they abandon it entirely. Even with only partial reuse of the Falcon 9, they're by far the cheapest game in town.
The bottom line is, we just don't know yet. It's interesting to theorize like this, but until we watch a live YouTube stream of a Falcon 9 second stage riding down from space under a balloon, anything's possible. One thing's for sure though, no matter what their plans are, they've got the world's attention.