Biohacking is the new frontier. In just a few years, millions of people will have implanted RFID chips under the skin between their thumb and index finger. Already, thousands of people in Sweden have chipped themselves to make their daily lives easier. With a tiny electronic implant, Swedish rail passengers can pay their train ticket, and it goes without saying how convenient opening an RFID lock is without having to pull out your wallet.
That said, embedding RFID chips under the skin has been around for decades; my thirteen-year-old cat has had a chip since he was a kitten. Despite being around for a very, very long time, modern-day cyborgs are rare. The fact that only thousands of people are using chips on a train is a newsworthy event. There simply aren't many people who would find the convenience of opening locks with a wave of a hand worth the effort of getting chipped.
Why hasn't the most popular example of biohacking caught on? Why aren't more people getting chipped? Is it because no one wants to be branded with the Mark of the Beast? Are the reasons for a dearth of biohacking more subtle? That's what we're here to find out, so we're asking you: what is the future of implanted electronics?
Over the past decade, we've seen hundreds of builds using RFID and NFC tags. We've seen people use these tags to start a car and open a door. We've seen NFC tags placed in bio-compatable glass, and we've seen RFID tags constructed out of ATtinys and a spool of magnet wire. Hackers, it seems, are all over short-range, batteryless electronic tracking tags, and that doesn't count the huge number of subway cards, contactless payment systems, or the fact that just about every phone these days can read these cards.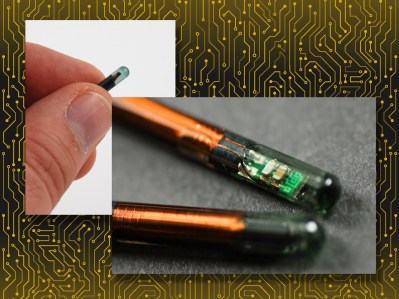 While embedding RFID tags under the skin delivers us this world of contactless payments, magic locks, and the ability to be tracked anywhere, we really haven't seen many applications for embedded tags. In fact, the most interesting application of wearable RFID tags may just be putting LEDs on fingernails. Yes, for just $3 per fingernail, you too can light up whenever you pass within a few inches of a contactless card reader.
Part of the lack of public interest in wearable RFID tags may just be a shortcoming of the system itself; if you want to pay for your drinks at Starbucks, that's one RFID tag. If you want to get on the subway, that's another RFID tag. If you want to open the door to your office, that's a third RFID tag. Short of carrying around a tag programmer with you around at all times — completely negating the convenience of storing your keys under your skin — we don't yet have the technology to have one RFID implant that rules all.
There are, of course, other technologies available for implantable cyborgation, but chipping yourself with an RFID or NFC tag is by far the most popular. People aren't really doing it, though, so we're opening this one up to the peanut gallery. What will it take to make implantable electronics widely popular? Would you get one? If you have a chip in your hand, what do you use it for and how has that changed over time? What do you think?