We just wrapped up the Robotics Module Challenge portion of the Hackaday Prize, and if there's one thing robots need to do, it's move. This usually means some sort of motor, but you'll probably want a gear system on there as well. Gotta have that torque, you know.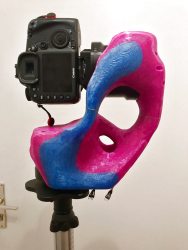 For his Hackaday Prize entry, [Johannes] is building a 3D printed Strain Wave Gear. A strain wave gear has a flexible middle piece that touches an outer gear rack when pushed by an oval central rotor. The difference in the number of teeth on the flexible collar and the outer rack determine the gear ratio.
This gear is almost entirely 3D printed, and the parts don't need to be made of flexible filament or have weird support structures. It's printed out of PETG, which [Johannes] says is slippery enough for a harmonic drive, and the NEMA 17 stepper is completely contained within the housing of the gear itself.
Printing a gear system is all well and good, but what do you do with it? As an experiment, [Johannes] slapped two of these motors together along with a strange, bone-like adapter to create a pan/tilt mount for a camera. Yes, if you don't look at the weird pink and blue bone for a second, it's just a DSLR on a tripod with a gimbal. The angular resolution of this setup is 0.03 degrees, so it should be possible to use this setup for astrophotography. Impressive, even if that particular implementation does look a little weird.