This weekend it's all going down at the Vintage Computer Museum in Mountain View, California. The Vintage Computer Festival West is happening this weekend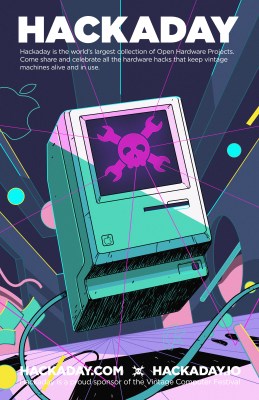 What's going on this year at VCF West? Far too much. The exhibits include everything from floptical disks, a fully restored and operation PDP-11/45, home computers from the UK and Japan, typewriters converted into teletypes, a disintegrated CPU, and LISP machines. The talks are equally spectacular, with a keynote from [Tim Paterson], the creator of 86-DOS, the basis of MS-DOS. You'll also hear about PLATO, the Internet before the Internet, PDP-1 demonstrations, and if we're lucky they're going to fire up the ancient IBM 1401. There will also be a vintage computer consignment, which is at least as interesting as the exhibits. The consignment is basically a museum, but you can buy the exhibits.
VCF West is happening this weekend at the Computer History Museum in Mountain View, itself a worthy destination for a day trip. For one weekend a year, though, the Computer History Museum is taken over by VCF attendees and becomes the greatest place to learn about this history of computing. They even have one of those Waymo bug cars in their autonomous vehicle exhibit.
All of this is going down this Saturday and Sunday, starting at 9am. Tickets are $20 for one day, $30 for the entire weekend, and yes, that includes admission to the Computer History Museum. Don't miss out!