I grew up with a blacksmith for a parent, and thus almost every metalworking processes seems entirely normal to have as part of everyday life throughout my childhood. There seemed to be nothing we owned that couldn't be either made or repaired with the application of a bit of welded steel. Children of blacksmiths grow up with a set of innate heavy hardware hacker or maker skills that few other young people acquire at that age. You know almost from birth that you should always look away from the arc when dad is welding, and you also probably have a couple of dictionary definitions ready to roll off the tongue.
The first is easy enough, farrier. A farrier makes and fits horseshoes. Some blacksmiths are farriers, many aren't. Sorry, my dad made architectural ironwork for upmarket houses in London when he wasn't making improvised toys for me and my sisters, he didn't shoe horses. Next question.
The second is a bit surprising. Wrought iron. My dad didn't make wrought iron.
But… Hang on, you say, don't blacksmiths make wrought iron? At which point the floodgates open if you are talking to a blacksmith, and you receive the Wrought Iron Lecture.
Modern Wrought Iron Isn't Really a Thing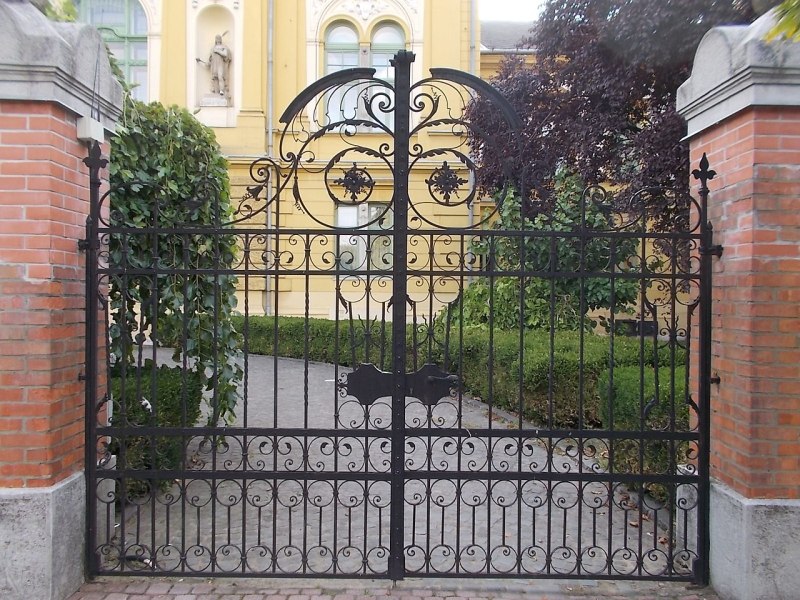 "Wrought iron" is the phrase that is commonly used to refer to blacksmith-made decorative ironwork. But the problem is that wrought iron itself is a material, a form of refined iron made by working smelted pig iron to release impurities from it. And more to the point, it's a historic material, except for a tiny quantity made for heritage purposes in a museum, it hasn't been available for over half a century. The "wrought iron" in that ironwork is almost certainly really steel, unless the piece in question is a very old, and probably very expensive too. To add insult to injury for blacksmiths, a lot of what is sold as "wrought iron" isn't even made by a blacksmith: there are entire catalogues of machine made components that can be welded together to a finished product for a mass-produced "blacksmith" look. It's unsurprising then that blacksmiths get hot under the collar.
So, given that a lot of "wrought iron" isn't really wrought iron, what is the real wrought iron? How was it made, and why isn't it made any more? And to answer that one, we have to go back to the blast furnace, and take a look at the properties of the iron freshly smelted from the ore.
True Wrought Iron Is Defined By How Impurities Were Removed
Pig iron, so-called because it was once formed in moulds that produced a branched ingot resembling a sow with piglets, still contains many of the impurities from the ore and the coal used to fuel the smelting, much of them in the form of silicon or sulphur compounds. It is extremely brittle, and not of much use as a material. When it is melted once more under more controlled circumstances its impurity content can be reduced, and you will find the result as cast iron. Cast iron though is still brittle, if you hit it hard enough with a hammer it will shatter. Some means of completely removing those impurities is required, and that is the purpose of manufacturing wrought iron or steel. Wrought iron has those impurities oxidised at the surface of a semi-molten mass by continually reworking it with a hammer or through rollers, while steel achieves a similar aim by blasting compressed air through a crucible of molten pig iron.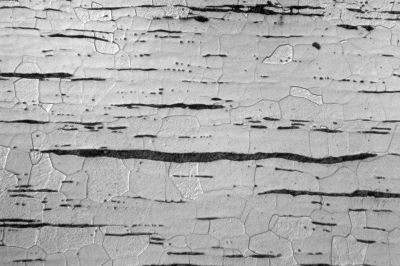 The result in the case of wrought iron is an extremely pure and malleable iron, with inclusions of furnace slag that the working process has formed out into an almost fibrous grain-like structure. This removes the brittleness of pig iron or cast iron, and makes it a much stronger and more elastic substance. It is much softer than steel, indeed if you are used to the hefty blows required for steel forging it is something of a shock to find just how soft it is on the anvil. I have only ever worked it once, my dad had a piece as part of a heritage restoration job, and we tried working it for curiosity's sake. "Like hammering butter" is how I'd describe it, after working mild steel.
Where Did the Wrought Iron Go?
So, given its interesting properties, why did wrought iron cease to be produced? The answer lies in the labour-intensive process, it is simply much more expensive to produce than steel.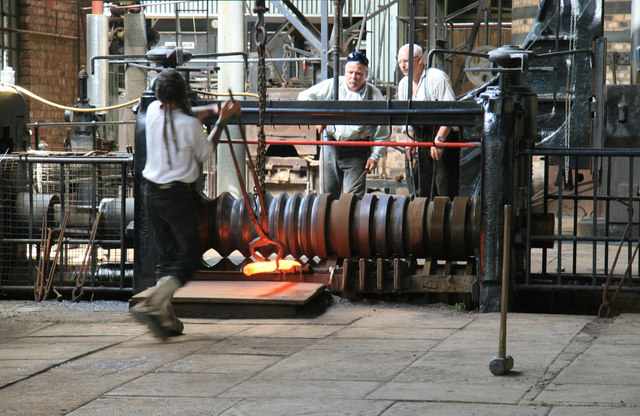 The earliest wrought-iron process used a puddling furnace, in which a "puddle" of congealing red-hot iron was worked manually using long rods, while later processes used multiple rolling of red-hot pig iron. Meanwhile the Bessemer steelmaking process could make vast quantities of steel in a single pass, making steel many times cheaper than wrought iron. From the late 19th century onwards its manufacture and use declined, until the last working wrought iron mill in the world closed in the 1970s. Its machinery was relocated to the Ironbridge Gorge Museum at Blist's Hill, and it remains the only place in the world where wrought iron is produced for demonstration purposes. The piece of the restoration project I mentioned came from this source.
So there you have it. Most wrought iron isn't wrought iron at all, and your blacksmith friends will thank you for not calling it that. Should the chance to work with this rare material come your way I suggest you take it, though don't waste it. After all, a lot of work went into making it!
Header: Adam Jones, Ph.D. [CC BY-SA 3.0].