Want to play a game? Your challenge is to do something incredible with a printed circuit board that measures no more than one inch by one inch. It's The Return of the One Square Inch Project and it's going to be amazing!
We can't believe that it's been three years! The original One Square Inch Project was a contest dreamt up by Hackaday.io user [alpha_ninja] back in 2015, and we thought it was such a great idea that we ponied up some prizes. The entries were, frankly, the best we've ever seen. So we're doing it again!
Last time around, the size constraint focused the minds and brought out the creativity in some of the best and brightest of Hackaday.io. What functionality or simply amusement can you pack into a square PCB that's just a tad over 25 mm on a side? We'd like to see.
We'll be featuring entries throughout the contest. We think geek 'cred is the best reward but if you want something more to sweeten the pot here you go:
Grand Prize:

Four Top Entries Win Tindie Gift Certificates:

Best Project – $100
Best Artistic PCB Design – $100
Best Project Documentation – $100
Best Social Media Picture or Video – $100

Five Runner-Up Entries: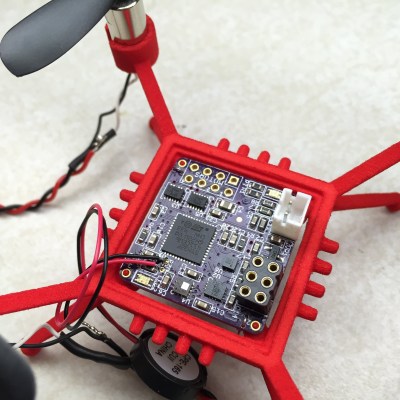 Want some inspiration? Last time the winner was a quadcopter in one square inch, but there were tons of useful and amusing projects crammed into tight quarters, and many of them transcend their constraints. There were not one but two hi-fi sound cards: one for your laptop's USB port and one for your microcontroller projects that is now officially supported by the Teensy Audio Library. Need a MPPT power converter for a small solar project? How about a plug-load meter that fits on a US mains plug or an I2C to WS2818 converter to make blinking easier?
There were breakout boards for nearly every imaginable chip, a radio downconverter from our own [Jenny List], and a great magnetic rotary encoder design. Key Pass, an Arduino in the size of a DIP-8, and of course a bat detector, a bubble display volt meter, a smart watch, and a capacitive touch wheel.
It's been three years, and parts have gotten cheaper, smaller, and more capable. What's newly feasible in a square inch that wasn't way back in 2015? Show us what you got.