Affordable solid-state batteries large enough for cell phones and drones have been promised for a long time but seem to always be a few years away from production. In this case, Taiwan based Prologium sent [GreatScott] samples of their Lithium Ceramic batteries (LCBs) to test, and even though they're not yet commercial products, who are we to refuse a peek at what they've been up to? They sent him two types, flexible ones (FLCBs) and higher capacity stiff ones (PLCBs).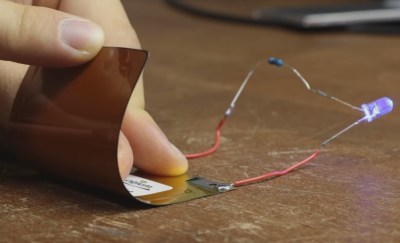 The FLCBs were rated at 100 mAh and just 2 C, both small values but still useful for wearables, especially given their flexibility. Doing some destructive testing, he managed to keep an LED lit while flexing the battery and cutting away at it with tin snips.
Switching to the thicker 7.31 Wh PLCB, he measured and weighed it to get an energy density of 258 Wh/L and a specific energy of 118 Wh/kg, only about 2/3rds and 1/2 that of his LiPo and lithium-ion batteries. Repeating the destructive tests with these ones, the LED turned off and smoke appeared while cutting and hammering a nail through, likely due to the shorts caused by the electrically conductive tin snips and nail. But once the snips and nail were moved away, the smoke stopped and the LED lit up again. Overcharging and short-circuiting the batteries both caused the solder connecting the wires to them to melt but nothing else happened. Rapidly discharging through a resistor only resulted in a gradual voltage drop. Clearly, these batteries are much safer than their LiPo and lithium ion counterparts. That safety and their flexibility seem to be their current main selling points should they become available for us hackers. Check out his tests in the video below.
Meanwhile, we'll have to be content with the occasional tantalizing report from the labs such as this one from MIT of a long battery life and another from one of the co-inventors of the lithium-ion battery which uses a glass electrolyte.