The IBM 1401 is a classic computer which IBM marketed throughout the 1960s, late enough for it to have used transistors rather than vacuum tubes, which is probably a good thing for this story. For small businesses, it was often used as their main data processing machine along with the 1403 printer. For larger businesses with mainframes, the 1401 was used to handle the slower peripherals such as that 1403 printer as well as card readers.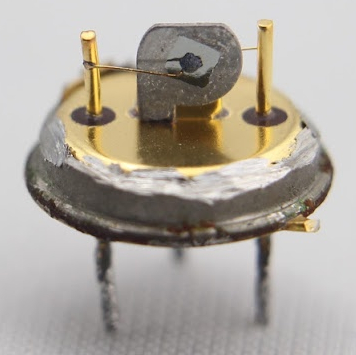 The Computer History Museum in Mountain View, CA has two working 1401s as well as at least one 1403 printer, and recently whenever the printer printed out a line, the computer would report a "print check" error. [Ken Shirriff] was among those who found and fixed the problem and he wrote up a detailed blog entry which takes us from the first test done to narrow down the problem, through IBM's original logic diagrams, until finally yanking out the suspect board and finding the culprit, a germanium transistor which likely failed due to corrosion and an emitter wire that doesn't look solidly connected. How do they know that? In the typical [Ken]-and-company style which we love, they opened up the transistor and looked at it under a microscope. We get the feeling that if they could have dug even deeper then they would have.
If you're unfamiliar with the work of this team who maintain the machines at the museum, you'll want to read up on how they recently got a 1401 to run FORTRAN II code.