Many a grown up can reminisce about building various architectural wonders in their youth. Forts, whether based on boxes or blankets, were the order of the day, and an excellent way to spend a rainy Sunday afternoon.
It just so happens that there is no law against scaling up such activities once one has reached the age of majority. However, to build a structure at this level takes some careful planning and consideration, and that is the purpose of our article here today.
Location, Location, Location
The first major consideration when starting your build should be the area in which you wish to do it. Building inside has the advantage of avoiding the weather, however hard floors can lead to sore knees when crawling around. Additionally, you're a grown up now, so it's less likely your peers will be impressed to hear you sat inside a box in your living room.
No, if you're going to do this right, you'll want to go outside. A nice flat lawn is best, providing soft ground and plenty of space. The challenges of the elements will guide your work – sitting inside your cardboard home feels all the more satisfying when you're cosy and dry as you listen to the patter of rain on the roof. There's a real sense of accomplishment when you've built something that can survive the harsh outdoors, and besides, the views are better, too.
Materials
Obviously, to build a box fort, you need boxes, and now you're no longer three feet tall, you're gonna need a lot of them. If you've struck it rich on the Bitcoin markets, you're in luck – place an order with your local packaging company for as many as you need and you're all set. However, for the rest of us, there's plenty of ways to scrounge up materials.
The simple fact is, the retail industry goes through tons of packaging – literally. The trick is knowing where to look. As far as Australia goes, the big supermarkets are largely a waste of time because boxes are crushed almost immediately and recycled once used. Smaller supermarkets, however, particularly those with a more community focus, are often more than happy to put aside some leftovers from the night fill run. They're a great source of your small-to-medium regular boxes.
Ideally though, you want the biggest boxes you can get. This is where hardware and furniture stores come in. Volumes are low, so they're generally flattened and disposed of manually, meaning they're often available if you're willing to show up and take them away.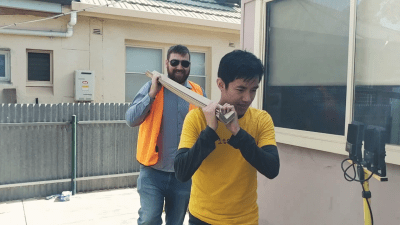 Flattened cardboard boxes aren't the be-all and end-all, however. When you're building an advanced structure, you need beams that can bear some decent loads. This is where you need to be hunting for cardboard L-angles, or even cardboard carpet tubes. These sections are very high strength and are invaluable when it comes time to put up your roof.
The real trick here is actually communication. You need to be able to identify who has what you want, and then contact them and see if you can pick up their waste cardboard. It's often as simple as picking up the phone and explaining politely that you're doing a project and would love to pick up any spare boxes they're getting rid of. Generally people are more than willing to help, and if not – no problem! There's always somewhere else to try.
Outside of cardboard, you'll need one more thing – a hell of a lot of tape. However much you think you'll need, quadruple it. Trust me.
Building Techniques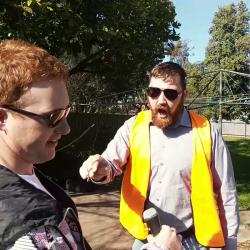 So you've stepped outside, it's a beautiful day, and your friends will be here any minute. How do you turn this hulking pile of cardboard into a building you can be proud of?
The first step is to plan. Get a rough idea in your head of what you want to do – how many rooms, secret tunnels, and so on. Then begin laying out your boxes to build the perimeter walls. Get inside and move about, and see if you've got the dimensions right. It's important to get this correct at the beginning, so you don't end up with a cramped, uncomfortable hang-out space that your friends don't want to play in.
Typically, if you're working with a variety of boxes in different shapes and sizes, the best way to build is by using the boxes in their folded-up box state, rather than as flat cardboard. Working with flat cardboard can give a very clean look, but such a design requires a lot of beams, such as L-angles or others, to hold the walls up. Given that such materials are harder to come by, building with box units is typically much more accessible and gives that classic box-fort look.
It's important to stagger your boxes – the boxes in the higher layer in a wall overlap the ones below. This helps lock the wall together, giving it a more resilient structure. If you're going for a quick and dirty build, this technique, combined with lashings of tape, is usually enough. However, if you want to get fancy, or you're building in a high-wind area, you may want to consider some more advanced brickwork techniques. Another useful idea is to weigh down the boxes at the base of your walls. This acts as a strong foundation and makes your boxes less likely to skate around as your fort's inhabitants bounce around.
Flooring is an area where your imagination really is the limit. If you've got a great lawn, you may not need flooring at all! Alternatively, tarpaulins or various types of linoleum sheet can be used for a hard-wearing surface. However, having undertaken this project, it's likely you'll find yourself with an abundant supply of, yes – cardboard. Flattened boxes make an excellent cheap flooring solution, and you've likely already got all the materials you need to hand.
The roof is often where things begin to get complicated. Yes, an open air fort can be fun, but it lacks a certain coziness and privacy that you can't get without a ceiling. If you've built your fort to proper adult dimensions, you'll find you've got quite a distance to span across your walls if you're going to close things in from up top.
This is where the engineering comes in. If you try to simply place flat sheets across a wide gap, they'll sag in the middle. They need support. The thing to consider here is the deflection of your roof structure. For a simple rectangular beam, the formula below is used to calculate the second moment of area.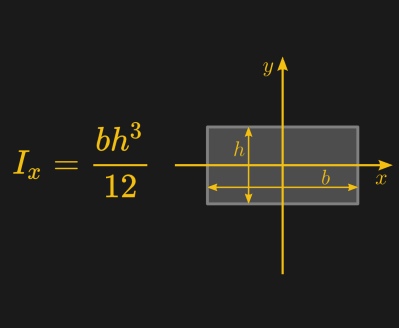 The second moment of area is very important in this regard; a higher second moment of area means your beam will resist deflection better. A lower second moment of area means that your beam will not hold up well at all. Note the terms in the equation – b for base width, h for height. The height term is cubed, meaning that the height of the beam has a far greater role to play where rigidity is concerned.
This is why I-beams and C-beams are so commonly used in construction – they have excellent rigidity in the vertical plane and thus can spread loads well. Obviously the calculations get more complex, but the key is always that the height makes more difference when talking about rigidity against vertical deflection.
To visualise this in a simple manner, take a steel ruler and hang it over the edge of a desk. Laying flat, it takes very little force to deflect the ruler. However, stand the ruler on its edge, and it is incredibly rigid and requires enormous force to deflect!
What does this mean for you, the enterprising box fort engineer? It's simple – for your roof spans, it's important to create beams with a high second moment of area in order for them to support the roof. This can be readily achieved by using cardboard L-angle or rolls, but this can be difficult to source in long lengths suitable for roof beams.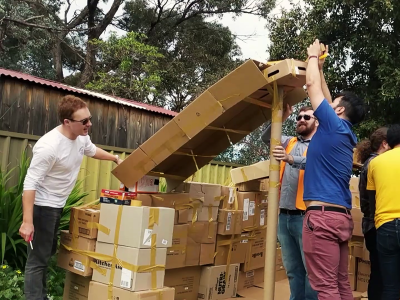 A great alternative is to build your own C-beams out of existing boxes. As pictured, the sides of the flattened box are folded up to form a C-shaped cross section. To stop them unfolding, tape is used as a tension brace to hold the beam in shape. In my most recent build, these are then combined with vertical pillars to make a peaked roof with a beautiful high ceiling. By creating rigid beams out of otherwise floppy cardboard, you have the capability to build far more daring and resilient structures – your creativity really is the limit here.
Once you've got the beams in place, you just need to cover the roof. Garbage bags are one option – they're noisy as hell but are great at keeping the rain out, while also letting plenty of natural light in. Ideally though, you'll have enough flat cardboard to cover the whole structure. It can be difficult to tape in place, and requires carefully leaning over walls as you go, but it can give some fantastic results.
Final Notes
You're an adult now, but some things never change. Blankets, beanbags and pillows should be your absolute number one go-to for decorating your fort. But it needn't stop there! We're all hackers here, so you'd be remiss not to go overboard with all manner of blinking LEDs and Arduino-powered contrivances. Being a structure that is admittedly temporary, you're free to hack up the walls for dodgy intercom installs or your latest digital picture frame build. Bonus points if you replicate the
entire bridge from the Starship Enterprise, of course.
Overall, with a good bunch of friends, and plenty of hustle, you can build a box fort that far exceeds the wildest dreams of your childhood. Go forth and create, and share your best tips in the comments!