If you're what one might call unlucky, there comes a point in your life when you need to switch to a keyboard that's more ergonomic than your average rectangle. A little prevention goes a long way, though, and there's no time like the present to go ergo. Why not? You have everything to gain, from long-lasting comfort to satisfying key presses.
The only problem is that most severely ergonomic keyboards just aren't portable. At this point, we all know how much I love my Kinesis Advantage, and how I wouldn't be able to write the Keebin' column or even a grocery list without it. I have two now, and I take the ugly, yellowed, sticker-bombed one with me out into the world. But as much as I love it, I would really dig a a slimmed-down version that's just as comfortable, perhaps more so. Well, move over, Kinesis, because you've got stiff competition in the form of a flexible little two-piece called the Glove80.
You may recall that there was a Kickstarter for this keyboard about a year ago. I was pumped about it then, and I still am. Here's why:
It's a compact, portable version of my favorite keyboard (since I can no longer Model M). What that means is that it's a curved ortholinear with column stagger. What does that mean? No finger has to travel very far in either the x, y, or z direction to reach the keys.
Working from home is not for everyone, and I longed for a keyboard that would actually fit in my backpack along with my laptop. This is totally that keyboard and I can't wait to take it out somewhere.
The Glove80 is meant for all hands, but especially small hands. Mine are 6″ long, and that's from the tip of my middle finger to the base of my palm. That's about an inch shorter than the average keyboard reviewer.
The halves are wireless, meaning I can put them as far apart as I want, or even mount them on my chair.
The designers did over 500 ergonomic experiments and built cool modular test rigs in order to build their end game keyboard, and that's awesome.
Getting Started
First and foremost, let's talk about the feel. I knew it would be lightweight, but it was lighter than I was expecting, which will be great for travel. That said, this is a substantial keyboard. It is super stable on the table, and the rubberized feet make sure it stays where you put it. This is really important when trying to get your ergonomics right. What good is a keyboard that slides around?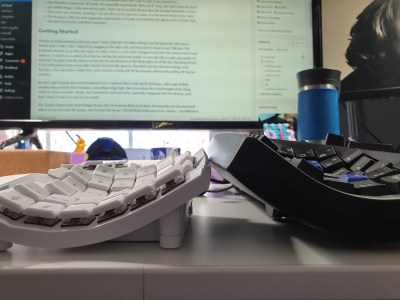 Thanks to bullheadedness and user error, I had a little bit of trouble setting it up because both sides have a button and a USB-C slot. I started by plugging in the right side, just because it's closer to my USB hub. The keyboard showed up as Glove80 Right but didn't seem to work until I plugged in the left side instead and turned both on.
I could have avoided all of this by reading the quick start guide, or even the full 47-page user guide but honestly I'm glad I had the chance to test out the intuitiveness of the thing right out of the box. Speaking of that, it was well-packed and comes with a bunch of extras like spacers, threaded rods for extreme tenting, extra keycaps, a key cap puller, rubber feet, and a wrench to help pull off the keycaps without also pulling off the key switches.
So once I got it going and started looking it over, I noticed that it only has F1-F10 keys, with a pair of little notches that preclude their inclusion. According to the FAQ, this is to reduce the overall height of the thing, which is understandable. Really, this keyboard is quite portable, especially compared with the Kinesis, and I don't think I'll miss F11 and F12 too much.
The thumb clusters look kind of large for me, but we're gonna find out in time. I'm honestly not too concerned with it as I'm not a big Alt person, and I'm not into layers. I found them quite easy to get used to — the difference being that that Kinesis uses a total of four 2u keys on the thumb clusters, and the Glove80 is made of 1u keys as far as the eye can see.
Getting Comfortable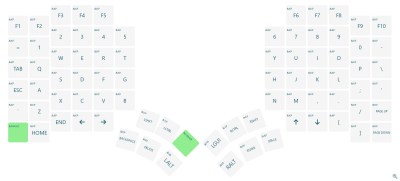 For someone used to concavities and ortholinear layouts, there really wasn't much of a learning curve for me, but it would likely take a couple of weeks to get up to speed if you're used to regular, row-staggered rectangles. If you're coming from an ErgoDox or something similar, the adjustment period should only be a few days.
Of course, the layout isn't the same as a Kinesis, although one of the layouts on the Glove80 ZMK menu is meant to be Kinesis-like. Personally, I've changed enough of the layout that I'll just tweak a few keys here and there and be set. Fortunately, the makers of the Glove80, MoErgo, made this really easy to do with their web-based layout editor.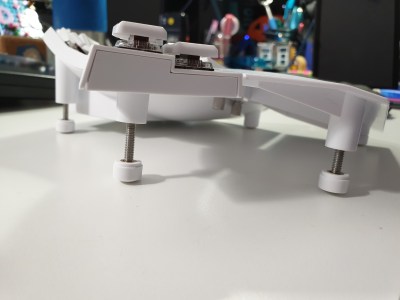 About the biggest difference for me here is typing on Kailh chocs instead of something Cherry or Cherry-adjacent, which I haven't really done at length before. I have to say that I rather like them, at least in brown, though I'm sure the others are great (especially blue).
Something really cool about the Glove80 is the built-in tenting system. The inside feet can be unscrewed and in the process lengthened, making it so your hand doesn't have to lie flat. If the rods aren't long enough, there are some really long ones it the goodies bag.
The Teardown
There's not too much to tear down with this streamlined keyboard, but I did it anyway because I wanted to see inside. First of all, one must detach the palm rests, which is quite easy to do thanks to a pair of spring-loaded thumb screws on each half. According to Stephen from MoErgo, they changed to these thumb screws after the Kickstarter campaign, where they previously had used regular screws that required a screwdriver.
Stephen tells me that these screws were designed for sheet metal — no off-the-shelf screws are really designed for thin injection-molded plastic. Furthermore, the mold became way fancier to account for the direction of the thumb screws, which is about 8 degrees off of the push-pull direction of the mold.
After removing the palm rests, there are just a handful of small screws to remove before gazing upon the sleek interior. Both sides have an nRF52840 over which they communicate with each other, and not much else.
Small Wonder
I dig this keyboard a lot. I think it works quite well for small hands, but I doubt that medium hands would feel cramped at all. Like I said, my hands are only 6″ long, so size does matter. After all, what good is a so-called 'ergonomic' keyboard if you have to stretch and overreach all the time?
Although I must disclose that I received this as a free sample for review, I would absolutely spend the money on one. It seems that MoErgo really did think of everything when it comes to ergonomic portability, and it shows.