Hollywood movies, RPGs, and Dungeons and Dragons campaigns are all full of flaming torches. They're a typical source of light in scenarios where electrical solutions simply aren't available. [Wesley Treat] decided to build a rather attractive ceremonial torch of his own design, showing off his impressive crafting skills in the process.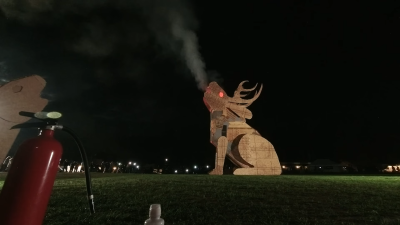 The build starts with a foam simulacra that helps [Wesley] rough out the general shape of the torch. It's a little shorter and stubbier than an Olympic torch might be, for reference. The main body of the torch is then hewn out of stout wooden blocks with the aid of a bandsaw with a nifty angle-adjustable cutting bed. A torch was then used to heat and bend steel strip  to make an attractive and heat-resistant flame shroud to sit on top. A wad of fuel-soaked material installed inside the shroud serves as the actual flaming compoment.
[Wesley] built the torch for the Maker Burn at Maker Camp in upstate New York. It did a plenty good job of helping burn down the giant scrap wood jackalope  sculpture built for the event. We do love the fire and the flames around these parts. Video after the break.