Ka-chunk. Let's face it, 8-tracks were not that great. But the players, that's another story. The Panasonic RQ-830S, aka the dynamite or TNT player is just one of many lovely designs that used to grace the shelves of electronics stores. Hackaday alum [Cameron Coward] came across a non-working model and used it to create the KaboomBox.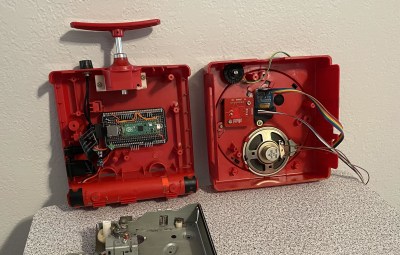 Just like before, all [Cameron] has to do is stick a tape in, and music starts playing. But now, instead of using rust on tape, the music is accessed via RFID and lives on an SD card inside the 8-track player.
Power it on, and a tiny LCD screen showing through the track number window first displays the KaboomBox logo, then shows a timer whenever it's waiting for a tape. And just like before, pushing down on the plunger skips to the next track.
The new guts include a Raspberry Pi Pico and an RFID reader, plus a DF Player Mini to handle the digital-to-analog conversion and amplify the signal, and an SD card to store the music. Now, [Cameron] is only limited by the size of the SD card. Check out the demo video after the break.
We've seen all kinds of boomboxen around here, from the lit to the Bluetooth to the payphone variety.