If you ever wondered what'd happen if you were to use LEGO Technic parts, but they were made out of something other than plastic, the [Brick Experiment Channel] has got you covered. Pitting original Lego axles against their (all except steel commercially available) equivalents made out of carbon fiber, aluminium and steel, some of the (destructive) results are very much expected, while some are more surprising.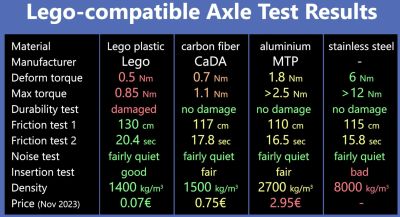 Starting off with the torque test, each type of axle is connected with others and rotated with increasing torque until something gives out. Unsurprisingly, the plastic Technic part fails first and renders itself into a twist, before the carbon fiber version gives up. Aluminium is softer than steel, so ultimately the latter wins, but not before a range of upgrades to the (LEGO-based) testing rig, as these much stronger axles require also strong gears and the like to up the torque.
When it comes to durability, all except the original LEGO version didn't mind having plastic rubbing against them for a while. Yet for friction in general, the plastic version did better, with less friction. Whether or not this is due to material wearing away is a bit of a question. Overall, stainless steel gets you a lot of strength, but in a dense (8000 kg/m3) package, aluminium comes somewhat close, with 2700 kg/m3, and carbon fiber (1500 kg/m3) does better than the original part (1400 kg/m3), with only a bit more weight, though at roughly ten times the cost.
On that note, we're looking forward to the first 100% stainless steel LEGO Technic kit, reminiscent of the era when Meccano came in the form of all-metal components and a bucket of bolts.