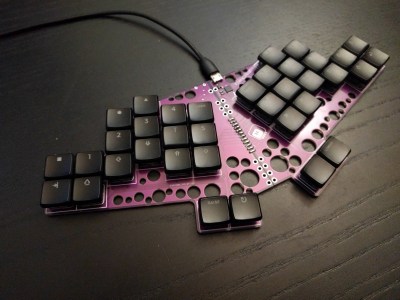 According to Google Translate, kleks is Polish for (and I'm cherry-picking definitions here) the word 'splash'. Well, [deʃhipu]'s hole-ful and soulful Kleks Keyboard certainly made a splash with me. [deʃhipu] knows what I'm talking about. As I said in Discord, I just love the look of those holes. They're purely aesthetic and do a nice job of showing off [deʃhipu]'s routing skills.
One might argue that those holes also functional in that they increase aerodynamics and remove a not-insignificant amount of weight for travel considerations. But yeah, they mostly are there to look cool. Upon closer inspection, I saw that the two halves are joined with a series of soldered stitches that are made from a [ggconnector] bent into a u-shape. Now it's a toss-up as to which is my favorite feature.
It seems that [deʃhipu] is never completely satisfied by this or that keyboard build, and that's okay. That's normal. That is . . . a big part of what this hobby is all about. Because honestly, what would be the fun in finding The One? We wonder what will happen when the droplets settle. Will [deʃhipu] be satisfied with the Kleks, or will those stylish holes become un-fillable voids?
Continue reading "Keebin' With Kristina: The One With The Hole-y Keyboard" →