If you're like us, you had no idea that there even was a World Robotic Sailing Championship. But we're glad that we do now! And congratulations to the team of A-Tirma G2, the winning boat. (Link in Spanish, difficult to translate — if you can figure out how, post in the comments?)
The Championship has apparently been going on for nine years now, and moves to a different location around the world each year. The contests for 2016 (PDF) are by no means trivial. Besides a simple there-and-back regatta, the robot boats have to hold position, scan a prescribed area, and avoid a big obstacle and return quickly back to their lane. All of this with wind power, of course.
The winning boat used solid sails, which act essentially as vertical wings, and was designed for rough weather. This paid off in the area-scanning test; the winds were so strong that the organizers considered calling it off, but team A-Tirma's boat navigated flawlessly, giving them enough points to win the event even though camera malfunction kept them from completing the obstacle avoidance.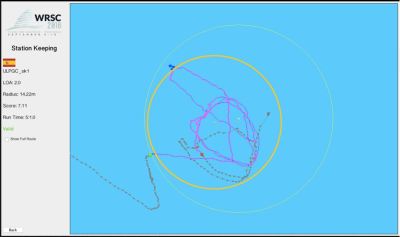 Unless you've sailed, it's hard to appreciate the difficulty of these challenges to an autonomous vehicle. It's incredibly hard to plan far ahead because the boat's motive power source, the wind, isn't constant. But the boat has, relatively speaking, a lot of inertia and no brakes, so the robot has to plan fairly far in advance. That any of the 2-4 meter long boats could stay inside a circle of 20 meters is impressive. Oh, and did we mention that A-Tirma did all of this calculating and reacting on solar power?
Because the wind is so fickle, drone sailboats are much less popular than drone motorboats — at least using the Hackaday Blogpost Metric ™. The hackerboat project is trying out sails, but they're still mostly working on powered propulsion. We do have an entry in the 2016 Hackaday Prize, but it's looking like the development process is in the doldrums. Still, sailing is the best way to go in the end, because windpower is essentially free on the open ocean, which means less work for the solar panels.
As far as role-models go, you've basically got the entrants in the World Robotic Sailing Championships. So kudos to the A-Tirma team, and thanks [Nikito] for the tip!