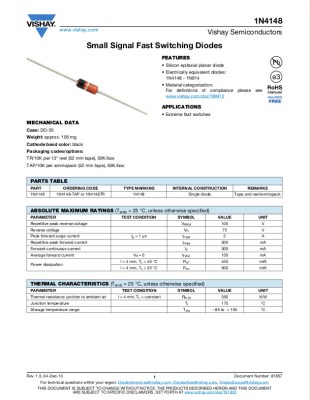 When looking across the discrete components in your electronic armory, it is easy to overlook the humble diode. After all, one can be forgiven for the conclusion that the everyday version of this component doesn't do much. They have none of the special skills you'd find in tunnel, Gunn, varicap, Zener, and avalanche diodes, or even LEDs, instead they are simply a one-way valve for electrical current. Connect them one way round and current flows, the other and it doesn't. They rectify AC to DC, power supplies are full of them. Perhaps you've also used them to generate a stable voltage drop because they have a pretty constant voltage across them when current is flowing, but that's it. Diodes: the shortest Hackaday article ever.
Not so fast with dismissing the diode though. There is another trick they have hiding up their sleeves, they can also act as a switch. It shouldn't come as too much of a shock, after all a quick look at many datasheets for general purpose diodes should reveal their description as switching diodes.
So how does a diode switch work? The key lies in that one-way valve we mentioned earlier. When the diode is forward biased and conducting electricity it will pass through any variations in the voltage being put into them, but when it is reverse biased and not conducting any electricity it will not. Thus a signal can be switched on by passing it through a diode in forward bias, and then turned off by putting the diode into reverse bias.
Continue reading "Diodes: The Switch You Never Knew You Had" →