Aerodox Flies on Wireless Wings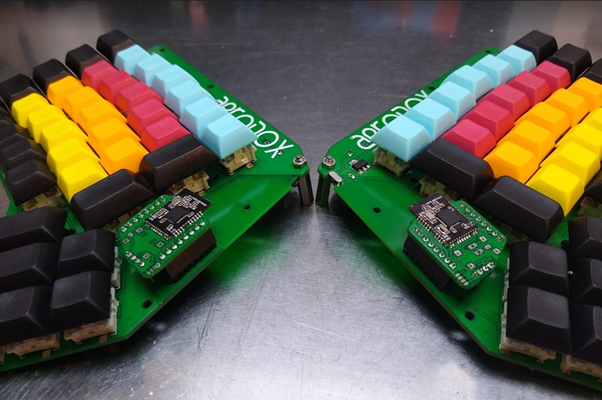 [Simon Merrett] didn't know anything about keyboards when he started this project, but he didn't let that stop him. [Simon] did what any of us would do — figure out what you like, learn enough to be dangerous, and then start fiddling around, taking all that inspiration and making a mashup of influences that suits your needs.
The Aerodox design became a cross between the ErgoDox's key layout and the logic and communication of the Redox Wireless, itself a reduced-size version of the ErgoDox. Interestingly, [Simon] chose the ErgoDox's dimensions and spacing, and not those of the Redox. Like a lot of people out there, I found the ErgoDox to be too big for my hands, mostly in that the thumb cluster is too far away from the mainland. It's nice to see that it suits some people, though.
[Simon] worked up a custom hot-swap footprint that makes the board reversible, much like the ErgoDox. Each half has an NRF51822 for a brain, and there's a third one that acts as a receiver. This external NRF board is connected over UART to an Arduino Pro Micro, which acts as the USB HID and runs QMK. It's an interesting journey for sure, so go dig into the logs.
Continue reading "Keebin' With Kristina: The One With The Curved Typewriter" →