For most people, MiniDisc is just one of countless media formats that became obsolete when music went online. Not so for MiniDisc enthusiasts, many of whom still use a MiniDisc deck at home and a MiniDisc Walkman on the go. Unfortunately, high-end headphones these days often come with Bluetooth connectivity only, necessitating the use of clunky signal converters that ruin the tidy compactness of those portable players. [Daniel Rojas] cleverly solved this problem by directly adding Bluetooth functionality to a Sony MZ-R500 MiniDisc Walkman.
MiniDisc Walkmen are famously compact devices, so adding a full circuit board to one wasn't easy. [Daniel] managed to squeeze the PCB from a Schosche wireless audio transmitter inside the front of the Walkman, next to the control buttons. He connected the audio signal to the transmitter's input and rewired the little-used "End Search" button to become the "Pair" button. Sadly, the recording head and some associated hardware had to be removed in order to make space for the new component, turning the Walkman into a playback-only device.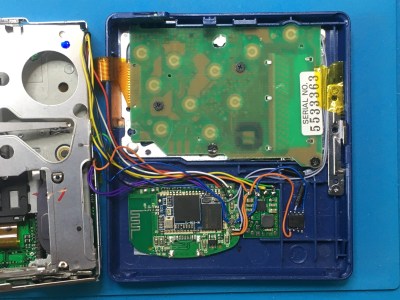 The project's GitHub page contains a detailed walk-through of the modification process that should enable anyone to reproduce the end result. [Daniel] didn't arrive at the optimal solution in one go however, and he describes the three major revisions of his project in separate sections. In the first iteration for example, the Bluetooth module caused interference on the audio signal, which [Daniel] solved by adding isolation transformers in version two. He also includes a page full of technical information he collected during his project, which will come in handy if you ever want to perform other modifications on your MiniDisc Walkman.
We've seen several impressive projects where Bluetooth interfaces were added to pre-Bluetooth gadgets, ranging from tube radios to 8-track players. Some, like the iPod Nano, are even more space-constrained than a MiniDisc Walkman. Continue reading "Wireless MiniDisc Walkman Has Bluetooth Inside" →