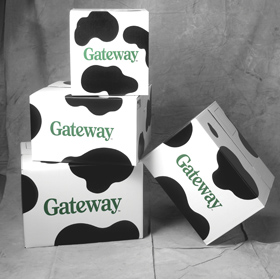 I remember the first time I built a computer. My sister and I had our last fight about who would get to use the family computer, it was time I had one of my own. I knew a little bit, and I knew I wasn't going to be one of those plebs that overpaid for a Gateway in its cow box. So I outsourced. One of the computer literate parents in my Scout Troop very kindly agreed to put together a list of components for me. I spent my Christmas money, birthday money, and a small mountain of money I had saved up. I remember getting the parts in the mail. I was so excited that a week earlier I had even bought one of those super lame computer tool kits to put it together.
I still remember how enormously frustrating the stand-offs for the mother board were to install. I think computers were still figuring out that they didn't need ALL of the features of a mainframe. Anyway there was a 3mm screw on each side of a cm tall brass standoff. It also wanted me to put these little isolating paper washers on the assembly for some reason. Even with my then presidentially sized hands it took a long time. My Mom later told me that it was around this time she was certain the whole endeavour was going to end in tears.
Six hours of careful work later I had the computer together and running when I realized I had forgotten to buy an OS for it. She was nearly right.
Regardless. My early experience with computer assembly left me with a love for standardized screws, a hate for excessive fasteners, and a deep loathing for improperly routed wires. I was a weird kid. Anyway, when it came time for me to start designing my own enclosures for circuit boards I had all the unique psychological damage and underpinnings I would need to waste a lot of time googling on the internet for an alternate, screwless, method of standing a board off from a surface.
Continue reading "Parts You Should Know: A Universe Of Useful Injection Molded Standoffs" →