Everybody and their grandmother is longboarding electric-style these days: here are some of the most recent developments in the world of kickless cruising.
First up, [comsa42] has punched up an excellent step-by-step visual guide for first-time EV hopefuls, detailing the basics of a battery-powered longboard setup and thoroughly explaining the particulars behind component choices. His build is relatively straightforward: combine a board with a low(ish) kV outrunner motor, some LiPo batteries, an ESC (Electronic Speed Controller), a transmitter/receiver, and a few custom parts for gearing and mounting. This build should be commended not only for its simplicity but also for its frugality: [comsa42] estimates a final cost of around only $300, which is a staggering difference from commercial alternatives such as the Boosted Board and newcomer Marbel.
[comsa42's] other significant contribution is a low-key and low-cost cover to house the electronics. He simply fiberglassed a small enclosure to protect the expensive internals, then mounted and painted it to blend seamlessly with the rest of the deck. You can find loads of other useful goodies in his guide, including CAD files for the motor mounts and for the wheel assembly.
But wait, there's more! Stick around after the jump for a few other builds that ditch traditional wheels in favor of a smoother alternative. There's also a smattering of videos, including comsa42's] guide overview and some excellent cruising footage of the other board builds doing what they do best.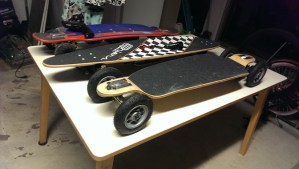 If you're serious about electric vehicle design of any kind, you'll want to head over to the forums at endless-sphere, where you can find the tireless efforts of folks like [pyschotiller], who recently chose to deviate from the traditional skateboard wheel in favor of some beefier alternatives. His build with all-terrain XT Wheels offers a reasonable substitute, using off-the-shelf mountainboard parts to cushion his ride. Perhaps more interesting, though, is his most recent setup: [psychotiller] sourced some 6″ casters and rigged them to fit his axles. Although the larger wheel meant a major adjustment to the gear ratio, the end result—a much smoother ride—was worth the effort. Videos of both boards are below.
No mention of EV longboard development would be complete, however, without checking in on [beetbocks], the engineer behind Alien Drive Systems. His initial push toward a smoother ride was this "urban commuter" board, which also used pneumatic wheels—but not casters. Instead, [beetbocks] sourced the parts from roller skis (also known as Nordic Skates, or Skikes).
The 5″ Skike wheels are smaller than [psychotiller's] casters and made for a more natural longboarding experience, but the plastic rims introduced a complication. Although they cushioned the ride, these larger wheels wobbled horribly (YouTube link).[beetbocks] solved the problem by machining his own custom wheels from scratch. Milled from solid billet 6082 alloy, these aluminum rims are carefully balanced, accept a normal skateboard bearing, and even weigh less than their plastic predecessors. [beetbocks's] most recent design is a 6″ off-road interpretation. Be sure to check out the videos that follow!
[comsa42's] tutorial video:
http://www.youtube.com/watch?v=4tHmGSwrgxA
[psychotiller's] board with XT Wheels:
[psychotiller] blasting through the riverbed on the 6″ pneumatic board (with a friend riding the XT):
[beetbocks's] Urban Commuter Board:
[Thanks Vlad]