Robot arms – they do everything from moving silicon wafers to welding cars. Many a hacker has dreamt of having their own robot arm to serve them beer help them build projects. This week's Hacklet features some of the best robot arm projects on Hackaday.io!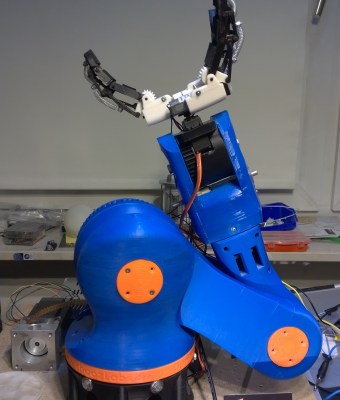 We start with [4ndreas] who is building this incredible 3D Printable Robot Arm. Inspired by large industrial robots, [4ndreas] has given us an entirely 3D printable design. [4ndreas'] 3D design experience really shows here. This arm looks like it just finished work at a local assembly line! The arm is BIG too – printing the parts took him about a week, and used around 1.2kg of ABS filament! [4ndreas] has recently split the project off into two halves: his blue arm is driven by stepper motors, while the orange arm is a DC motor affair. Both of the arms can use his awesome gripper design. Check out the project page for videos of the arm in action!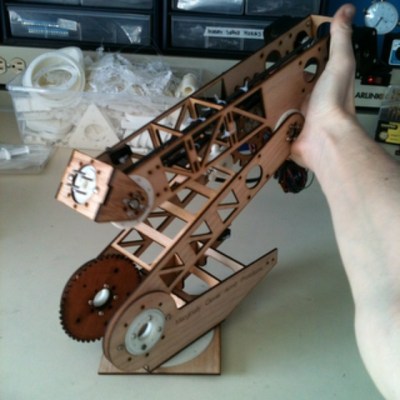 Next up is [Dan Royer] and his 6DOF Robot Arm. [Dan's] didn't want to spend upwards of $10,000 on an industrial arm, so he built his own from wood, plastic, and easily obtainable parts. As the name implies, the arm has 6 degrees of freedom. The electronics consist of beefy NEMA 17 stepper motors and a RUMBA controller, which was originally designed for 3D printers. Dan even created some novel encoder mounts. Each joint has an encoder, which will allow the robot to run as a closed loop system. [Dan] originally entered this arm in The Hackaday Prize 2014. While it didn't get him to space, we're betting it will be able to get him a soda!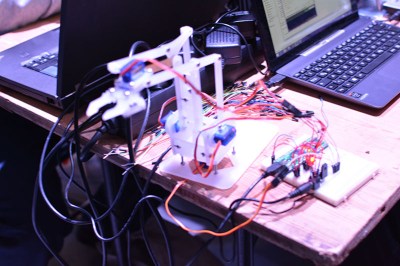 No robot arm Hacklet would be complete without featuring [ben.phenoptix] and the awesome MeArm. MeArm is a pocket-sized robot arm which uses tiny 9 gram servos for locomotion. It's built from laser cut acrylic and standard hardware. We loved the MeArm so much that we featured it as one of the challenges in our Embedded Hardware Workshop in Munich. More recently, [Ben] and MeArm have had a great run on Kickstarter. Let's hope those arms are good at stuffing, addressing, and mailing out packages!
Finally we have [Kenji Larsen] with Reactron material transporter. The material transporter is just a small part of [Kenji's] larger Reactron project. It started with an OWI-535 robot arm. The OWI is really a toy – a plastic kit which builds an open loop DC motor driven arm. [Kenji] has put some serious time into modifying his particular arm. He experimented with molding his own potentiometers for each joint before settling on a printed circuit board based design. Once the new system was in place, he found that his resistors were good for about 10,000 cycles. Not bad for a modified toy!
There are quite a few robot arm projects we weren't able to cover in this edition of The Hacklet – you can check them all out on our brand new Robot Arm Projects List!
That's it for this Hacklet, As always, see you next week. Same hack time, same hack channel, bringing you the best of Hackaday.io!