While the jury is still out on 3D printing for the consumer market, there's little question that it's becoming a major part of next generation manufacturing. While we often think of 3D printing as a way to create highly customized one-off objects, that's a conclusion largely based on how we as individuals use the technology. When you're building something as complex as a rocket engine, the true advantage of 3D printing is the ability to not only rapidly iterate your design, but to produce objects with internal geometries that would be difficult if not impossible to create with traditional tooling.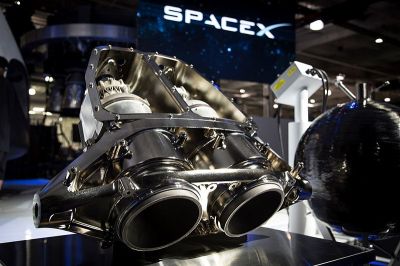 So it's no wonder that key "New Space" players like SpaceX and Blue Origin make use of 3D printed components in their vehicles. Even NASA has been dipping their proverbial toe in the additive manufacturing waters, testing printed parts for the Space Launch System's RS-25 engine. It would be safe to say that from this point forward, most of our exploits off of the planet's surface will involve additive manufacturing in some capacity.
But one of the latest players to enter the commercial spaceflight industry, Relativity Space, thinks we can take the concept even farther. Not content to just 3D print rocket components, founders Tim Ellis and Jordan Noone believe the entire rocket can be printed. Minus electrical components and a few parts which operate in extremely high stress environments such as inside the pump turbines, Relativity Space claims up to 95% of their rocket could eventually be produced with additive manufacturing.
If you think 3D printing a rocket sounds implausible, you aren't alone. It's a bold claim, so far the aerospace industry has only managed to print relatively small rocket engines; so printing an entire vehicle would be an exceptionally large leap in capability. But with talent pulled from major aerospace players, a recently inked deal for a 20 year lease on a test site at NASA's Stennis Space Center, and access to the world's largest metal 3D printer, they're certainly going all in on the idea. Let's take a look at what they've got planned.
Continue reading "Relativity Space's Quest To 3D Print Entire Rockets" →