There's an old joke that says USB cables do not exist in three-dimensional Euclidian space. Try to plug a USB cable in a socket, and the first try will always be wrong. Flip it, try to plug it in, and that will also be wrong. You will only succeed on the third try, and this is proof that USB connectors exist in higher planes of reality with arcane geometries. The joke is as old as the Pythagoreans, who venerated USB connectors as gods.
The waveform has collapsed, the gods profaned, and USB connectors that exist in only three dimensions have arrived. We're talking, of course, about a reversible USB Type A connector that will plug in the first time, every time. No need for electromancy or the "looking on the cable for the USB logo and plugging it in with that side up" method used by tech plebeians.
This discovery came after going through my daily roundup of crowdfunding press releases, eventually landing me on this idiotic project. It's a USB charge cable that's supposed to charge your phone twice as fast, despite the fact that charging speed is a function of current, and that's determined by whatever you're charging from, not the cable. Terrible idea, but they do have something interesting: a three-dimensional USB connector.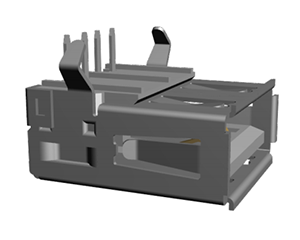 The connector isn't the brand new USB 3.1 Type C connector that will eventually find its way into phones, laptops, wearables of all types. This is your standard Type A USB plug you've known and loved for the past eighteen years. The difference here is that the chunky block of plastic that has made the common USB cable non-reversible for so many years is gone. In its place is a tiny strip of plastic that has contacts on both sides. Yes, it took nearly two decades for someone to figure out this would be a marketable idea.
While searching for a source for these three-dimensional USB connectors, the only source I could come up with was Wurth Elektronik, With Farnell/Element14 carrying a selection of connectors, a few available on Digikey, and some available on Mouser. There are even a few pre-made reversible cables available, with Tripp Lite leading the game right now.
For integrating one of these connectors into your build, there's only one thing to watch out for: the pinout for these plugs is mirrored on each side of the thin strip of plastic going down the middle of the connector. This means your VCC and GND pins will be right next to each other, your D+ and D- signal pins right next to each other, and now you have to do your layout with eight pins instead of only four.
While it may not be groundbreaking and it makes for some confusing PCB layout work, but as told by a highly successful crowdfunding campaign, this can be a real feature for a product.
If you've recently come across a component, connector, or part that's unique, interesting, or downright cool everyone should know about, send it on in and we'll take a look at it.