Let's talk about the newest part of this year's Hackaday Prize: Best Product. In addition to all of the other prizes offered, the Best Product Prize will award $100,000 to one entry which is designed for manufacturing and embodies the core of this year's theme. What exactly does that mean? It boils down to one hundred grand to jumpstart your product launch. Let's take a closer look at why we added this prize and the specifics of entry.
What about the other 90%
You have a working prototype and you're one step away from making your first million, right? That is almost always a fallacy. One major hurdle is the engineering needed to take a working prototype to the factory line — that can be nine-tenths of the work. Designing for production is a story that we want to tell. This becomes an educational tool for those just starting to learn about product design. If we make the steps, gotchas, and tricks of the trade easier to learn we chip away at the hard part of hardware and this is one of the chief motivators for adding Best Product.
Proving Your Market
Before you take the risk you want to make sure there is a customer base out there who want to buy your hardware. We've noticed that Crowd Funding platforms are a growing avenue for market research. It has become something of a pre-order system, but it also means that all decisions are somewhat locked in before going into production. We see the Best Product prize as a way to prove the market, not just for the winner but surely for all of the ten finalists as well. Still want to go the crowd funding route afterwards? Fine, we've seen big things happen for a lot of great builds featured on Hackaday. But competing for the Best Product award keeps your options open during and after the crowd has spoken their peace.
Slightly Different Entry and Judging Criteria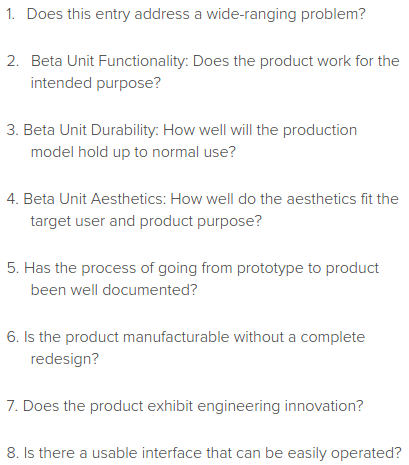 The entry requirements and judging criteria for Best Product are both a bit different form the main entry field. Rest assured you are still eligible to compete for all of the other prizes.
On the entry side of things the biggest difference is that you need to send us three working beta units for testing by August 17th. When we sat down to figure out what makes something "a product", the existence of several working prototypes in the hands of beta users was high on that list. In this case we'll be the testers but this lets us verify that entries aren't vaporware. You will also need to complete most of your documentation by the entry date.
On the judging side of things the criteria quite different. One noteworthy change to point out; Openness is not among the Best Product judging criteria. If you want to keep the secret-sauce secret you won't be penalized for it. However, if you also want to win the Grand Prize, Open is the way.
Read the Rules, Start Your Entry
Now that you're really excited about all of this, make sure you go and read all of the Official Rules. Sections 4 & 5 both have information about Best Product entry and judging criteria.
Getting your entry started is easy. Just begin a project on Hackaday.io and add the tags "2015HackadayPrize" and "BestProduct". This lets us know you're in it to win it and we'll keep you informed of what is coming down the pipeline as the Hackaday Prize progresses.
---