The Vintage Computer Festival East was last weekend, and now it's time to wrap everything up. We're going to start this off with a video of the biggest, most intolerable jerk on the planet walking around the boardwalk at Ashbury Park. Thanks to [Fran] for filming it.
That video, despite the wretched casting director, included the reveal of the PDP Straight-8, the 50-year-old minicomputer that was repaired and refurbished by [David Gesswein] just this year. You can see some pictures of that and more below, and a little more on [David]'s website.
Music
Old computers mean chiptunes, the bleeps and bloops of SIDs, POKEYs, and those weird Yamaha things, right? Nope. [Anthony Stramaglia] exhibited a Fairlight CMI, one of the first digital sampling synthesizers. This is actually [Bob Moog]'s Fairlight. Before digging into the the technical details and pics, here's a short jam session:
The Fairlight CMI is basically a dual-CPU computer based on the 6800. The computer includes two 8″ floppy drives for storing samples, and a number of voice cards to buffer and play the samples. A green CRT (with a lightpen) is the UI, and yes, you can draw samples on it. It's an awesome piece of tech that can be heard on just about every record made in the 80s.
Apple Oddities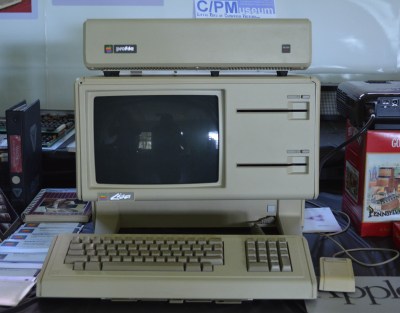 The Apple Lisa was released in early 1983 at a price of about $10,000 USD. Nearly all of these units were defective, with the Twiggy floppy drives failing left and right. In 1984, Apple released the Lisa 2 for about $5,000 USD, replacing the Twiggys with reliable Sony disk drives. The Lisa 1s were quietly disposed of. You would be correct to assume that Lisa 1s are incredibly rare, and a working Lisa 1 is nearly unheard of.
[Cory Little] brought in a few of the rarer Apples for his exhibit. Included is a IIc+, with the terrible LCD, a III+, a Lisa 1 and Lisa 2, and a very interesting Apple I that is completely wire-wrapped, just like the [Woz] original.
The Consignment Shop
If you go to a Vintage Computer Festival, you're going to come away with more than you came in with, and I'm not talking about a deeper appreciation of the history of recent technology. No, people are selling old computers here, and there are some goodies.
That's just about it from VCF East X, at least until the videos from [Brian Kernighan] and [Bob Frankston] are uploaded. Until then, I will leave you with this: