Week 14's image may have had us at a loss for words, but it definitely didn't slow down the intrepid caption contest entrants on Hackaday.io! Thanks to everyone who entered. We still have no idea what that device is, though we are sure that we wouldn't want to be standing under it. Just look at those 4×4 sections of lumber holding everything up. What's the French translation for "sketchy as hell"? The device definitely includes a pressure or vacuum vessel of some sort. Beyond that, your guess is as good as ours. We'll keep an eye on CERN's image discussion page in case an answer does pop up.
The Funnies:
"Damn it Athol, stop harping about protocol and hand me the duck tape. This is nuclear physics, not rocket science!" – [The Green Gentleman]
"This will mix a mean Margarita for the party tomorrow, I promise you!."- [Mats L]
"To long have we tried to smash particles, now we will blend them." – [paul]
The winner for this week is [LongHairedHacker] with: "After weeks of complicated assembly the team finally found out that the IKEA Årc, was in fact not a fusion reactor. It did make a hell of an espresso though."
As promised, [LongHairedHacker] will be taking home a Bus Pirate From The Hackaday Store!Congratulations!
Week 15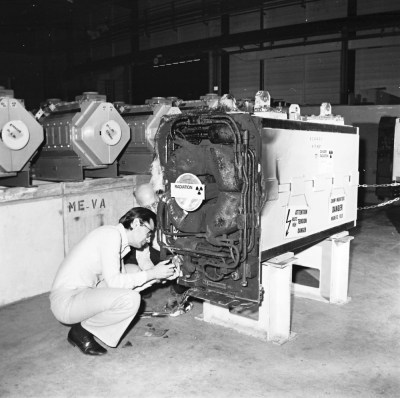 Accidents happen! When you're working on the bleeding edge of science and technology, things don't always go as planned. In this image, we're looking at what appears to be the result of some sort of failure. We're not sure what the piece of equipment was, but "was" is the proper term – as it's now charred to a crisp.
The two scientists investigating the damage don't seem to be worried about the radiation warning posted on the end of the machine's aperture. Hopefully they know what they're doing! 
Last week's prize was a Bus Pirate. This week we're giving away another Dangerous Prototypes design, a Logic Pirate from The Hackaday Store.
Add your humorous caption as a comment to this project log. Make sure you're commenting on the contest log, not on the contest itself.
As always, if you actually have information about the image or the people in it, let CERN know on the original image discussion page.
Good Luck!