Everyone remembers Battlebots, and those of us feeling the pains of nostalgia have tuned into the recent reboot on ABC. As with the golden age of Battlebots, all robot fighting competitions eventually become a war between machines perfectly designed for the task. In the original run of Battlebots, this meant a bracket full of wedge bots, with the very cool robots eliminated year after year.
You don't watch NASCAR for the race, you watch it for the crashes, and professional robot fighting competitions will always devolve into a few hundred laps of left turns. Fire and sparks are great, but there is a better robot fighting competition, and this time anyone can get in the game without spending years working on a robot.
It's called Hebocon, and it's billed as, 'a sumo wrestling tournament for those who don't have the technical skills to actually make robots'. The best translation I've seen is, 'shitty robot battles', and it's exactly what robot battles should be: technical mastery overcome by guile, and massive upsets through ingenious strategy. You won't get fire and sparks, but one thing is certain: no robot will make it out of Hebocon fully functional, but that's only because they weren't fully functional to begin with.
Hebocon gets its name from the Japanese: ヘボい, or 'clumsy'. These are not technically adept robots, and at the first Hebocon at the Japan Media Arts Festival in 2014, a battery-powered car wearing an iPhone case beat the most obvious winner – a wedge bot that races across the ring. Crappyness trumps strategy, a wedge bot was defeated, and all is right with the world.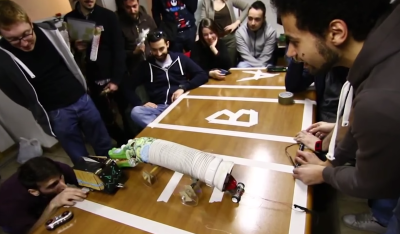 The basic idea behind Hebocon is to put two robots on either side of a 100cm x 50cm ring. The round starts, and the first robot to knock the other out of the ring wins. Technical immaturity is encouraged, with penalties for remote control (both wireless and wired) or automated operation. The best robot here is completely dumb; a wind-up car has a better chance of winning a Hebocon than a complex sumobot controlled by a Raspberry Pi. Someone who forgets their robot on the way to the competition is a favorite to win.
Over the last year, Hackaday has been to a few Hebocons, including events at Sparklecon and Layer One. At Layer One, contestants simply went over to the Radio Shack (yes, it was still open), bought something that looked like it could move, and built a robot out of duck tape and zip ties.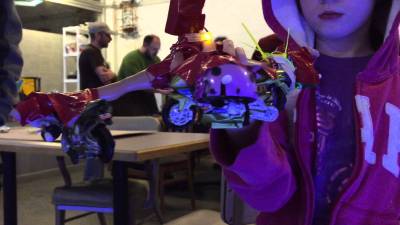 This weekend, I will be the arbitrary and capricious judge of Fubacon, a Hebocon held at Fubar Labs' new hackerspace in New Brunswick, New Jersey. Instead of simply putting the play field on a table and running a timer, the Fubar Labs crew will be hosting a build session filled with motors, batteries, and craft supplies. It's meant to be an introduction to robotics, even if the crappiest robot wins.
For so long, robot competitions have been focused on the most capable, most elegant solutions with the most engineering behind them. You need not look at Battlebots for evidence of this. First robotics clubs are an amazing introduction to engineering for thousands of high school students, but even this doesn't have the public outreach a Hebocon has. Hebocon is the robotics competition for the every man; an event where anyone can participate will inevitably get many more people involved.
It doesn't have the fire, sparks, and spinning blades of death Battlebots, but if you want a good time, my money is on Hebocon.