Over the past five days we've been challenging the Hackaday community to build a clock and show it off. This is to raise awareness for electronics design in everyday life and hopefully you found a non-hacker to join you on the project. The point is that our society — which has pretty much universally accepted everyday carry of complex electronics — has no idea what goes into electronic design. How are we supposed to get kids excited about engineering if they are never able to pull back that curtain and see it in action?
Build something simple that can be understood by everyone, and show it off in a way that invites the uninitiated to get excited. What's simpler than a clock? I think of it as the impetus behind technology. Marking the passage of time goes back to our roots as primitive humans following migratory herds, and betting on the changing seasons for crop growth. Our modern lives are governed by time more than ever. These Clocks for Social Good prove that anyone can understand how this technology works. And everyone who wants to learn to build their own electronic gadget can discover how to do so at low-cost and with reasonable effort. This is how we grow the next generation of engineers, so let's take a look at what we all came up with over the weekend.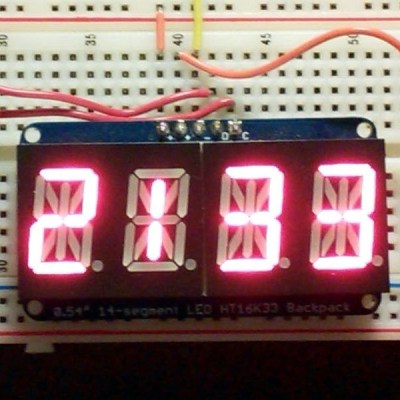 This Obvious Clock is Obvious — the title describes the clock extremely well and it's why I picked this one as the first feature. In addition to this close-up image of the 14-segment display make sure you take a gander at the breadboarded circuit shown at the top of the post.
As far as electronics go, this is a dead-simple way to do it. Several breadboard friendly modules were combined: an Adafruit Trinket, a rotary encoder, real-time clock module, I2C display, and power supply that takes USB input. It's a blueprint for anyone that wants to "build by numbers" but there is a lot of room to grow once this first project is said and done.
The software side of things might be a bit more challenging. The Trinket does work with the Arduino IDE but [Douglas Henke] wrote everything is plain old C (a hacker after my own heart). The rotary encoder offers a menu system — these things can get hairy for beginners. But he has done a great job of commenting the code which means finding that friend who can help you work through it line-by-line will bring your C comprehension skills up to snuff post-haste.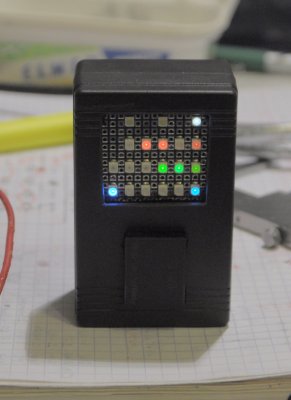 The CGA clock is a throwback. I wonder how many of our readers don't associate those three letters with a video standard? Hopefully not many as understanding the epic march of computer graphics through the years makes you absolutely marvel at that cellphone display you hold in your hand as you read this post.
At face value this is just a binary clock with some colors added in. Each column reads out one digit of the hours, minutes, and seconds using binary code.
But if you're not great at converting those binary values to decimal quickly, you might just remember the CGA color values. Instead of tracking the locations of the pixels, you add up the color palette values and should get the same numbers you would have if you had gone with the binary calculation.
For those of you keeping track. This one's driven by a PIC16F688 and uses mains AC frequency to keep accurate time.
Not every clock focuses on electronics. This FischerTechnik Clock builds analog hands from the superbly awesome toys. I don't think I've ever run across these before but they seem to be the affordable hobby version of that FAC machine building set we saw last week.
In this picture, the minutes hand is really easy to see pointing to the '6' position. A bit harder is the hours hand which is pointing between the '7' and '9' position.
[Jac Goudsmit] went all out with a mammoth set of build instructions. He plans to make an update later which shows how to add the electronics parts to drive it.
There are many more to peruse in the list linked at the top of the post, but I thought it fitting to finish up with another simple clock that is almost cliché for Hackaday. [Radomir Dopieralski's] Yet Another Clock Project combines parts that are a favorite around here: WS2812B LEDs and an ESP8266 module.
The module brings Internet connectivity through WiFi; a great choice considering most of the clocks in our lives are kept true using Network Time Protocol (NTP). The LEDs are driven on a single cascading data line which makes the wiring fairly simple, and the lithium battery with tending circuit makes it portable. The finished version — programmed in Lua — houses everything in an interestingly shaped acrylic box.
I know I'm preaching to the choir with this post. But you have the power to move electronics toward the main stream. Find an opportunity in your community to raise the profile of building electronics as a hobby. It doesn't have to be complex, expensive, or time-consuming. Channel that wonder you felt the first time you lit an LED, and then find a way to pass on the excitement to anyone who will give you the time of day.
It's not too late to get on this list, let me know when you post your project and I'll make sure it joins the collection.