For the past few months, [David VE3KCL] has been launching balloons from his Canadian home fitted with radio transmitters. Nothing unusual there: quite a few people do this, including schools, hackerspaces, and individuals. What is remarkable is how far he has gotten. His S-4 flight in August of this year crossed the Atlantic, reached France and took a tour of Germany, Denmark, Sweden, Finland and Norway before finally landing in the Norwegian Sea. That's over 10,000 kilometers (6200 miles): not bad for a couple of party balloons strung together.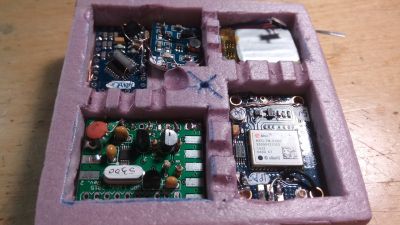 Although the distance these balloons have travelled is quite remarkable, the interesting part is how [David] is tracking the balloons. Cell phones obviously won't work over the Atlantic, and satellite transmitters are expensive, so he used a low-cost transmitter that was programmed to broadcast using a variety of Ham radio signals. The most effective seems to be WSPRnet (the Weak Signal Propagation Network), a system used by Hams to see how far low strength signals will go. This system relies on Hams leaving their receivers on and running software that uploads the received signals to a central server.
By cleverly encoding information such as height and position into this signal, he was able to turn this worldwide network into a tracking network that would report the balloon's position pretty much anywhere on the globe. [David] is continuing to launch balloons: his latest went up on the 24th of September and travelled over 4300km (2600 miles) before the signal was lost over the Atlantic.