Before the modern notion of the citizen scientist lies the earlier ideal of the independent scientist. Scientists outside of the academic community but engaging with it. These days citizen scientists are often seen as valuable assistants in the scientific process, helping collect and process data in a quantity which would be otherwise intractable.
In the past however, independent scientists had a far more central role. Galileo, Kepler, Darwin and Hooke were all self funded at various points in their careers. More recently independent scientist Peter Mitchell won the Nobel prize for Chemistry in 1978 for his foundational research into cell biochemistry and the development of the chemiosmotic hypothesis.
Sadly, peer-reviewed scientific contributions by scientists un-sponsored by a research organization are now few and far between. In this short series we hope to highlight the efforts of these lone researchers with particular reference to the tools they've had to hack together on a budget in their scientific quests (if you know an independent researcher you think we should feature, please comment below!).
In Hacker circles Forrest Mims is perhaps best known for his series of electronics books and the unforgeable Atari Punk Console. But it's his ability to engage with the scientific community as an independent researcher through a series of well thought out scientific articles that interests us here. Contributions made all the more significant by his lack of formal scientific training.
LEDs as Light Sensors
Forrest's central contribution is in the environmental measurement of light. In particular ozone and other measurements based on solar irradiance (sunlight). His work began with a neat hack, the use of LEDs, not to illuminate, but to sense light. Forrest's experiments began in high school where "Observing that an electromagnetic speaker can double as a microphone, I wondered whether semiconductor light detectors could emit light as well". Forrest's experiments continued and he discovered that he could indeed generate small amounts of light from photodiodes and photocells. When LEDs became widely available in the 1970s he discovered that these too could be used as light detectors.
The LED light sensor circuit is rather simple and simply swaps a photodiode for an LED in an opamp transimpedance amplifier to measure the current produced by the LED (I tried this out myself this week and can verify that it's an easy and fun experiment).
The LED light sensor has a number of advantages over a photodiode. Not only are LEDs generally cheaper but they have better wavelength selectivity. This allows a particular band to be targeted improving sensitivity. The LED sensors have incredible stability too. While a filtered photodiode based detector might require yearly calibration in some applications, Forrest has been using the same LED based detector for two decades with minimal drift.
Forrest has used these detectors to build a variety of instruments, among these is an Ozone measurement device. Every day at noon over the course of 20 years Forrest has taken measurements at his home in Southern Texas. His device is so accurate, and his work so consistent that he was able to identify a drift in the measurements made by the NASA total ozone mapping spectrometer on the Nimbus-7 satellite. This error, which NASA finally admitted, was published in the high profile scientific journal Nature.
Fungal Fires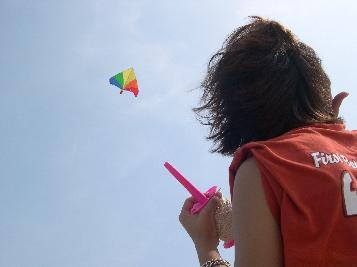 Forrest has also encouraged other family members to publish their findings. With Forrest, his daughter Sarah published an article on fungal spores which are transported long distances by forest fires. Sarah's work is distinguished as being a science fair project that resulted in a scientific publication. And it really is the publication that distinguishes this work, the precision and effort required to produce a publication and engage with the scientific community is impressive.
Independent scientific research can be a great way for individual hackers to engage in the advancement of science. While the independent scientist may lack funding they have the freedom to take on the projects that they feel are important and interesting, without having to chase the latest funding craze or incremental publication. And remember "Life is a science fair project!".